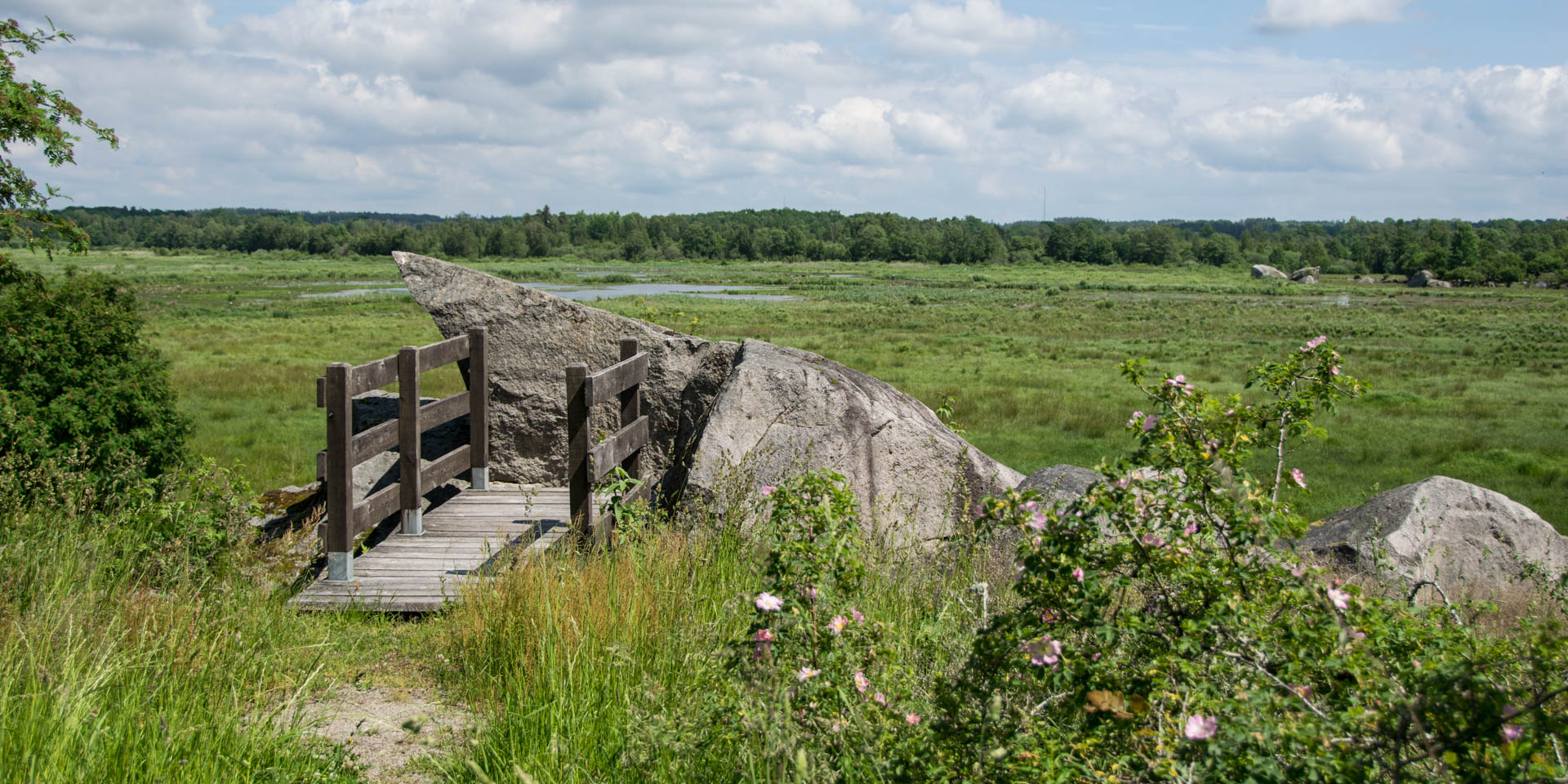 Insider tip
Husebymadens Naturreservat
Nature reserve near Grimslöv
The nature reserve Husebymadens Naturreservat is located northeast of Grimslöv in the southern half of the municipality of Alvesta in Småland and consists of a large wetland area that serves as a mating and breeding ground for numerous bird species.
With an area of 130 hectares, Husebymadens Natureservat stretches along the river Helige å from the site of the historical ironworks Huseby Bruk in a southerly direction to the northern tip of the large lake Åsnen.
The nature reserve is situated a little lower than the river and is usually flooded regularly in spring, to fall dry again in midsummer. In the 1870s, the owners of Huseby Bruk, who in addition to the ironworks also ran a large agricultural estate, systematically drained the natural wetland to gain arable land. In order to pump the water from the lower lying area into the river, a large Archimedean spiral was used, which still exists today at the northern end of the nature reserve. In the 1930s, the agricultural use of the area was stopped and the area was left to its own, which then began to overgrow.
The inhabitants of the nature reserve
In the mid-1990s the area was renaturalised, trees and bushes were removed and the original flooded meadows with a shallow bird lake were restored. To this day, the old drainage systems are still used, which have been converted accordingly and now serve to maintain the water level of the wetland unchanged.
Within a very short time Husebymadens Naturreservat was conquered by the rich bird life of the Åsnen area. Meanwhile, numerous water birds like mallards (Anas platyrhynchos), common goldeneyes (Bucephala clangula), tufted ducks (Aythya fuligula), mute swans (Cygnus olor) or common terns (Sterna hirundo) breed in the nature reserve as well as typical inhabitants of wet meadows such as northern lapwings (Vanellus vanellus), Eurasian oystercatchers (Haematopus ostralegus), common redshanks (Tringa totanus) and little ringed plovers(Charadrius dubius).
Discover Husebymadens Naturreservat
A good view over the nature reserve is offered from the higher situated rest area, which is only a few steps away from the parking lot in the south of the nature reserve. The best view, also for bird watching, is from the observation tower about 300 meters further north.
.
Another observation possibility is the higher situated oak grove at the northern end of the nature reserve, which can be reached via a short path from Naturum Kronoberg on the grounds of Huseby Bruk. There is no circular route through the nature reserve, which is also prohibited to enter from April 1 to June 30 and from September 15 to October 31 anyway.
Similar destinations in the area