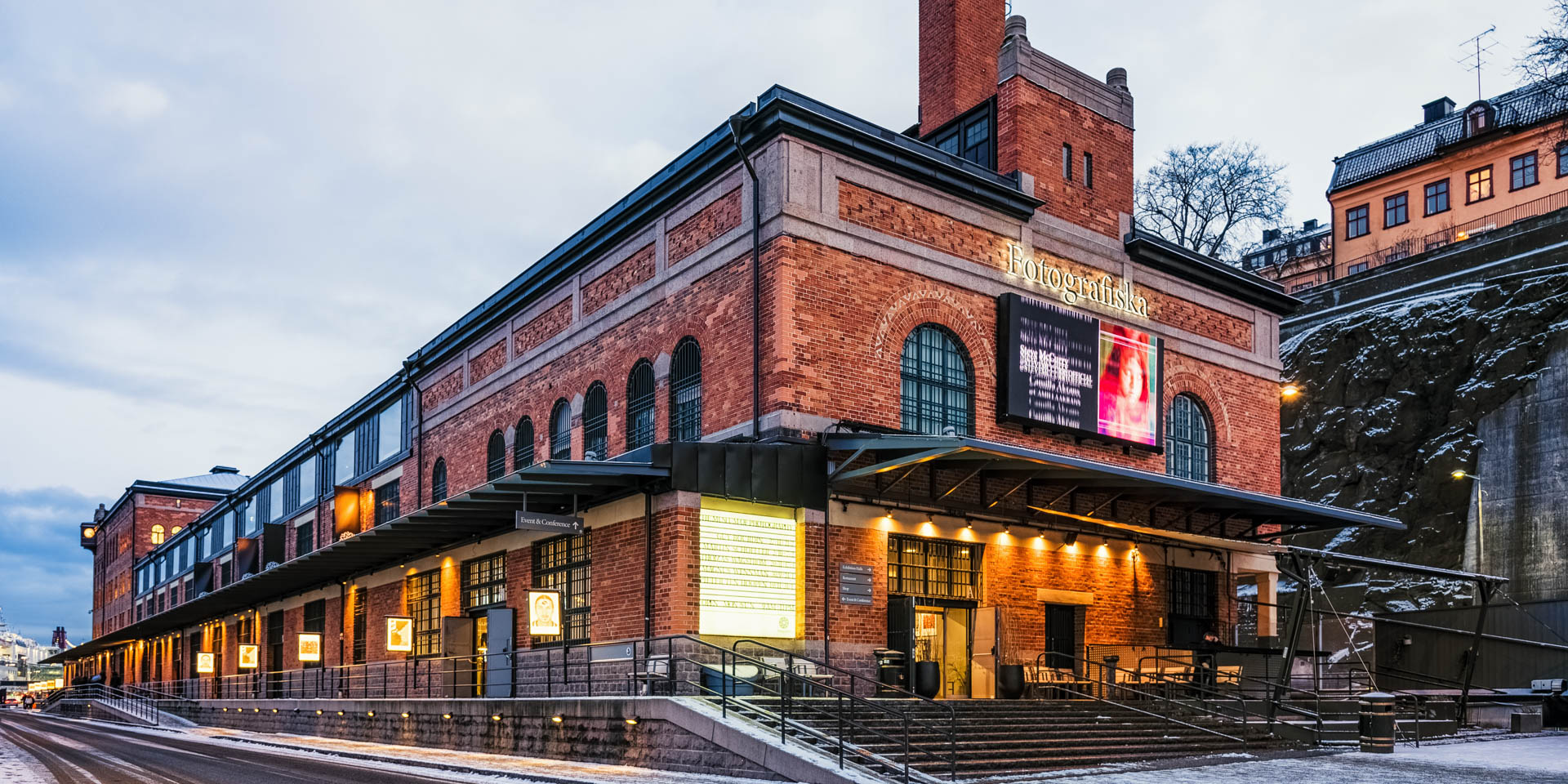 Fotografiska
Photography museum in Stockholm
Fotografiska in Stockholm is one of the world's largest and most important photography museums and is located in an historical industrial building at the harbour of the island Södermalm.
The Fotografiska was opened in 2010 in the Art Nouveau building of the former Royal Customs Office at Stadgårdskai and is with over 500,000 annual visitors one of Stockholm's major tourist attractions.
On an exhibition area of around 2,500 square metres, spread over two floors of the large brick building, the Fotografiska organises around 20 – 25 exhibitions of works by various national and international photographers and photo artists over the course of the year. Usually four major main exhibitions alternate, accompanied by about 20 smaller photo exhibitions.
The Fotografiska sees itself as an ambassador for the art of photography and as an international platform for the exchange and dissemination of the almost infinite possibilities of expression offered by photography. In addition to the exhibitions, Fotografiska regularly offers various lectures, workshops and classes for professional photographers as well as for amateur photographers and beginners.
For your physical well-being at Fotografiska, there is a restaurant and a café with a beautiful view of the city panorama of Stockholm. There is also a gallery where you can buy posters and prints of works by international photographers and photo artists and the museum shop offers a wide selection of photo books.
The photography museum is barrier-free and accessible by wheelchairs and baby carriages. There are ramps at the entrances and lifts in the two stairwells. There are disabled toilets and changing tables on the ground floor and in the café on the second floor. Dogs are not allowed in the building.
All payments in the Fotografiska are made by card – cash payments are not possible.
Fotografiska:

Opening hours
1. January – 31. December
Monday – Wednesday: 9:00 – 23:00
Thursday – Saturday: 9:00 – 1:00
Sunday: 9:00 – 23:00
Similar destinations in the area