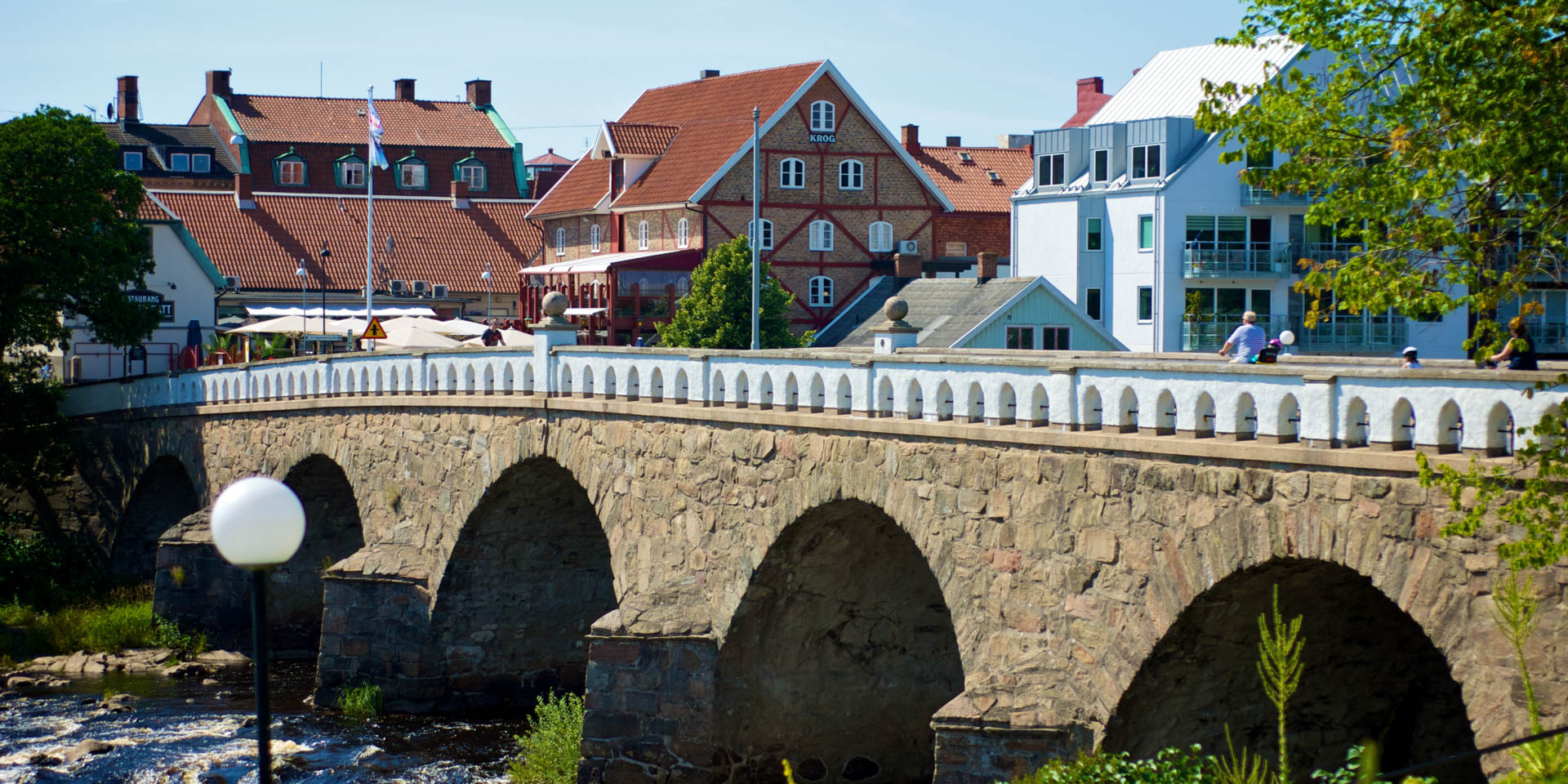 Tullbron
Historical stone arch bridge in Falkenberg
The most famous historical building in Falkenberg and one of the most beautiful stone arch bridges in Sweden is the Tullbron in the city centre, completed in 1761.
With its five arches resting on mighty stone bridge pillars, the Tullbron spans the river Ätran, which flows foamily through the city at this point and is known as a good fishing spot for salmon, especially in the city area.
The bridge crosses the river at one of its narrowest points and leads from the old town Gamla Stan over to the leisure and recreation area Vallarna and the remains of Falkenberg Castle.
Since its completion in 1914, toll (Tull) had to be paid for its use. The original construction costs were paid by the Swedish state and soldiers were called in for the construction work, but after its completion the bridge was leased to save the state the follow-up costs. During each six-year lease term, the tenant was responsible for the maintenance of the bridge, which he financed with the collected tolls.
The history of the bridge
The bridge had a wooden predecessor, which was very susceptible to repairs, especially due to the heavy winter ice on the Ätran, so that a decision was made in 1752 to build a stone bridge.
Since the beginning of the 20th century, the traffic load of the bridge has steadily increased. The former main artery of the west coast, the old Riksvägen 2 crossed the bridge. After the increasing popularity of the holiday area Skrea Strand in the 1930s, the city administration decided to widen the old bridge in 1939.
This was the starting signal for a decades-long political dispute, which only ended in 1954 with the fact that the widening of the bridge was prohibited by government decision due to its cultural-historical significance. After that it took another 30 years until Tullbron was declared a national monument in 1984.
Similar destinations in the area