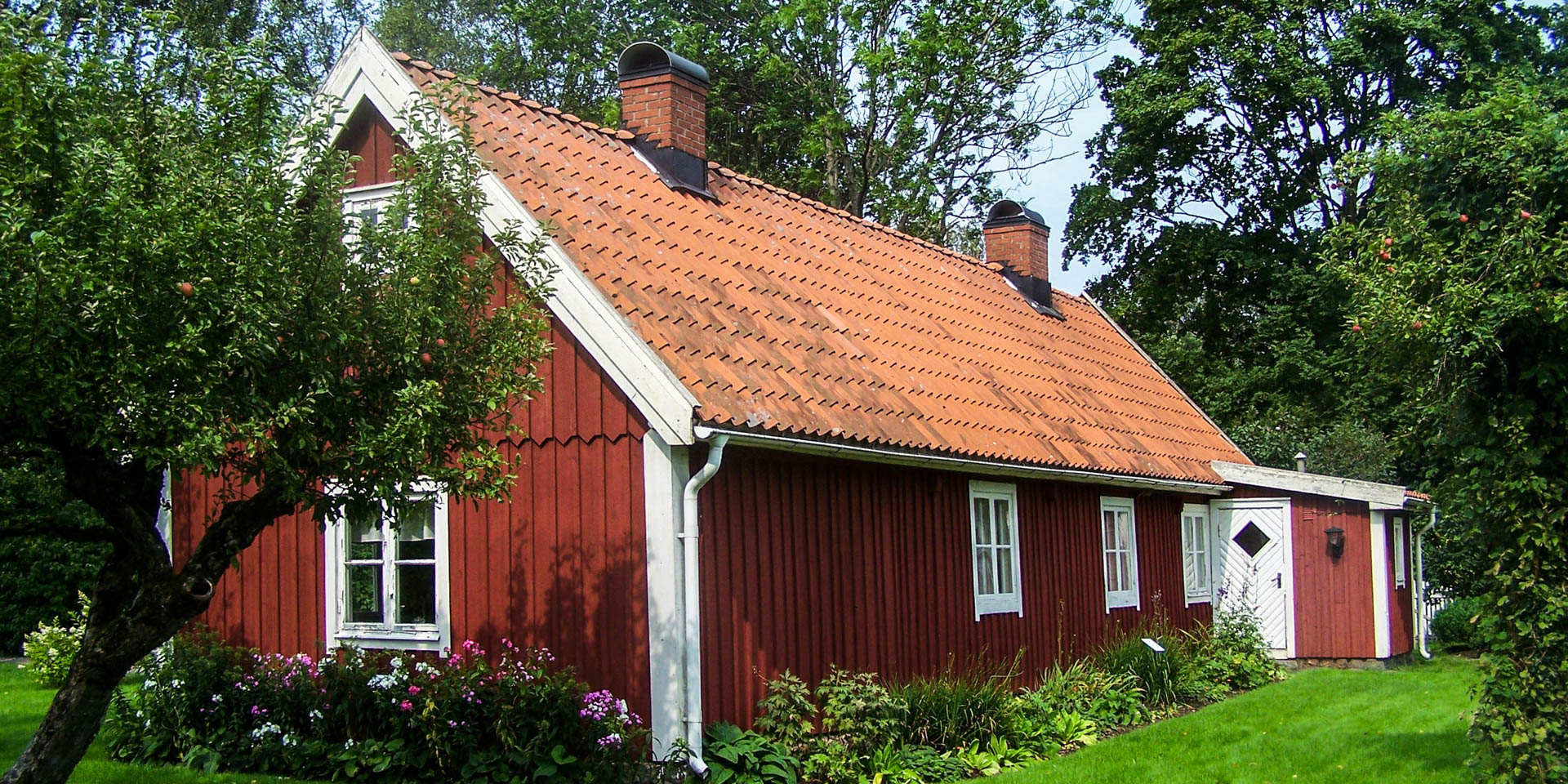 Fågelboet
August Bondeson museum in Vessigebro
Fågelboet is a museum for the author, folklorist and physician August Bondeson (1854 – 1906). It is located in the village of Vessigebro, about 15 kilometres northeast of Falkenberg.
The red wooden house with white edges was the parental home of August Bondeson, which he lovingly called Fågelboet (bird's nest). The house was built in 1855 by the author's parents, the shoemaker and saddler Carl Bondeson and his wife Lisa. August Bondeson grew up here with two younger siblings, and even later the lifelong bachelor was a frequent visitor. Fågelboet was Bondeson's retreat, so to speak, where he kept parts of his manuscripts and his folk collections, among other things. As a person interested in botany, he often helped his parents with the upkeep of the garden.
The author August Bondeson
August's interest in the art of storytelling was awakened at a very early age by the folk tales of his father, who was known as a gifted storyteller and for his phenomenal memory. For example, a good half of the book Halländska sagor (Tales from Halland), published in 1880, was taken from his father's stories.
August Bondeson published his first book already in 1875, shortly before he started his medical studies, which he finished as a specialist for skin diseases and opened his own practice in Gothenburg in 1889. During his studies and his work as a physician, Bondeson continued his literary activity, so that by the end of his relatively short life he had already published 22 books, some songs and plays as well as numerous stories in so-called Christmas newspapers.
His greatest literary success was the two-part novel Skollärare John Chronschoughs memoarer (Memoirs of the School Teacher John Chronschough), in which he tells the life of a complacent elementary school teacher.
The Fågelboet Museum
As a folklorist he travelled through several Swedish provinces and collected cultural and historical objects, folk songs and regional stories. On the one hand, he documented the culture of the Swedish rural population in the late 19th century in great detail, and on the other hand, he created a loyal audience with his humorous tales.
Already in 1936, Fågelboet and all the inventory was given away to the cultural history museum in Halland by August Bondeson's nephew. The house is still furnished exactly as it was during August Bondeson's lifetime, and in addition to a wealth of exhibits on the life and work of the author, it also shows the furnishings of a residential house at the beginning of the 20th century.
The museum Fågelboet is open for visits from the beginning of May to the end of September – but these must be booked in advance at Hallands Kulturhistoriska Museum in Varberg.
Similar destinations in the area