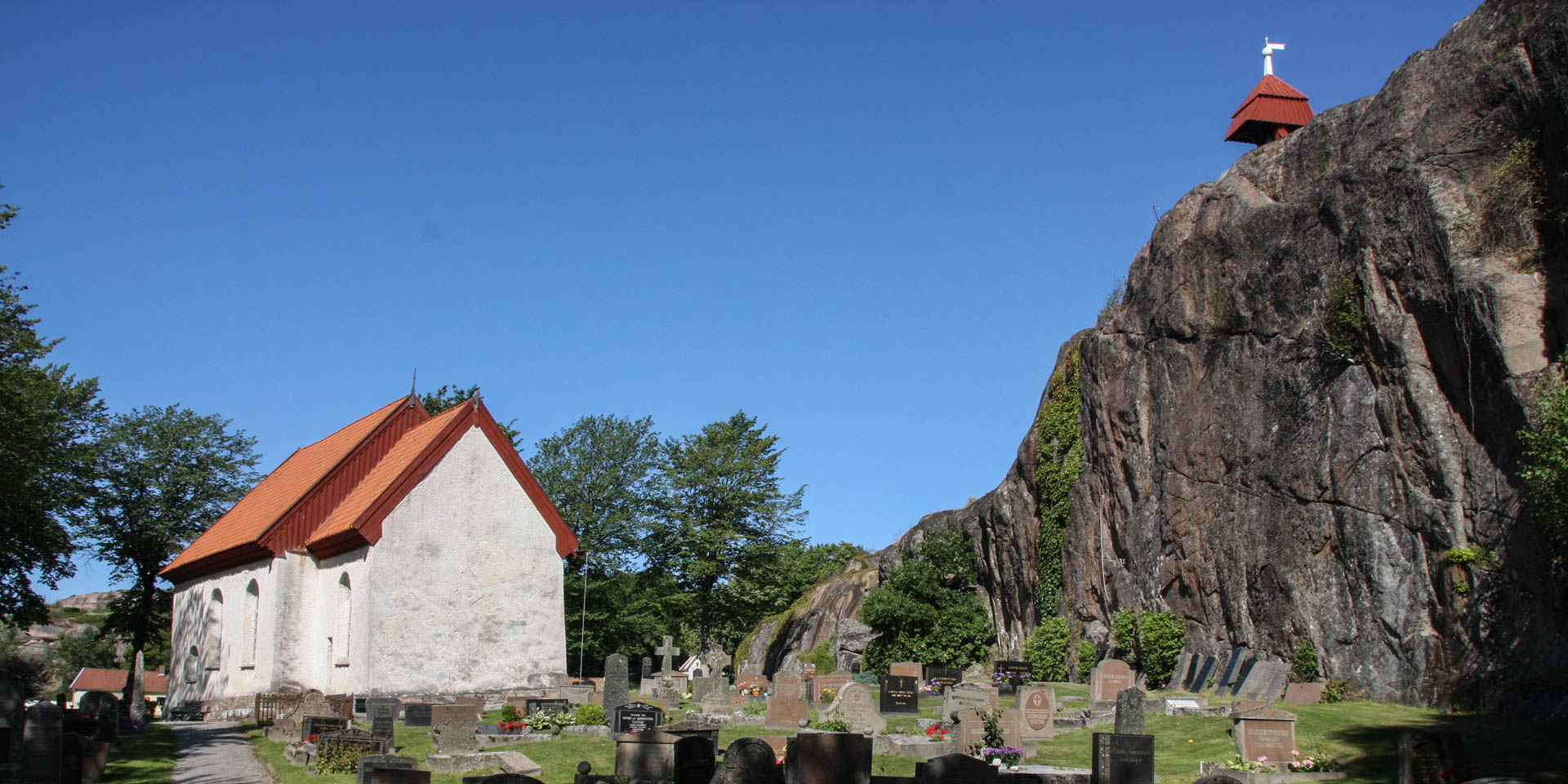 Svenneby Gamla Kyrka
Medieval church in Svenneby
Svenneby Gamla Kyrka is located outside the village Svenneby in the extreme south of the municipality Tanums Kommun. It is one of the oldest churches in the historical province of Bohuslän on the west coast of Sweden.
Svenneby Gamla Kyrka was built at the beginning of the 12th century in Romanesque style and originally consisted of a nave with a smaller choir room. It is situated in an unusual location directly in front of a steep rock face that towers a few metres above the church. High up on the cliff is the wooden belfry of the church, which houses the 13th century bell.
The church from inside and outside
The church is 17 metres long, nine metres wide and the stone walls are between one and two metres thick. Originally, the church had only small wall openings instead of windows, which allowed little light to enter. It was not until the beginning of the 18th century that the windows on the south side were brought to their present size. In the same century the wooden vestibule was added, the present pews were installed and the wooden tunnel vault was added as a ceiling. In 1741 the ceiling paintings with biblical motifs were created, framed by lavish ornamentation.
A little older is the pulpit decorated with painted carvings, which dates back to the baroque period in the 17th century. The baptismal font dates back to the 13th century, is made of soapstone and is decorated in the upper part with arcades and a peculiar irregular ornamentation. The altar consists of a finely worked granite slab and is as old as the church itself.
A church becomes Gamla Kyrka
For more than 800 years, Svenneby Gamla Kyrka was the centre of the village Svenneby. Gradually, however, the centre of the village shifted northwards and when a new church was built there, the old church (Gamla Kyrka) of Svenneby outside the village was out of use for the time being with the last service on December 5, 1915. After the old church had not been used for several decades, it was consecrated again in 1982. From 2015 to 2017 the church, which was threatened by severe dilapidation, was restored from the bottom up, largely recreating its medieval character.
During the summer months from midsummer to the end of September the Svenneby Gamla Kyrka is used for occasional church services and is otherwise open to visitors.
Similar destinations in the area