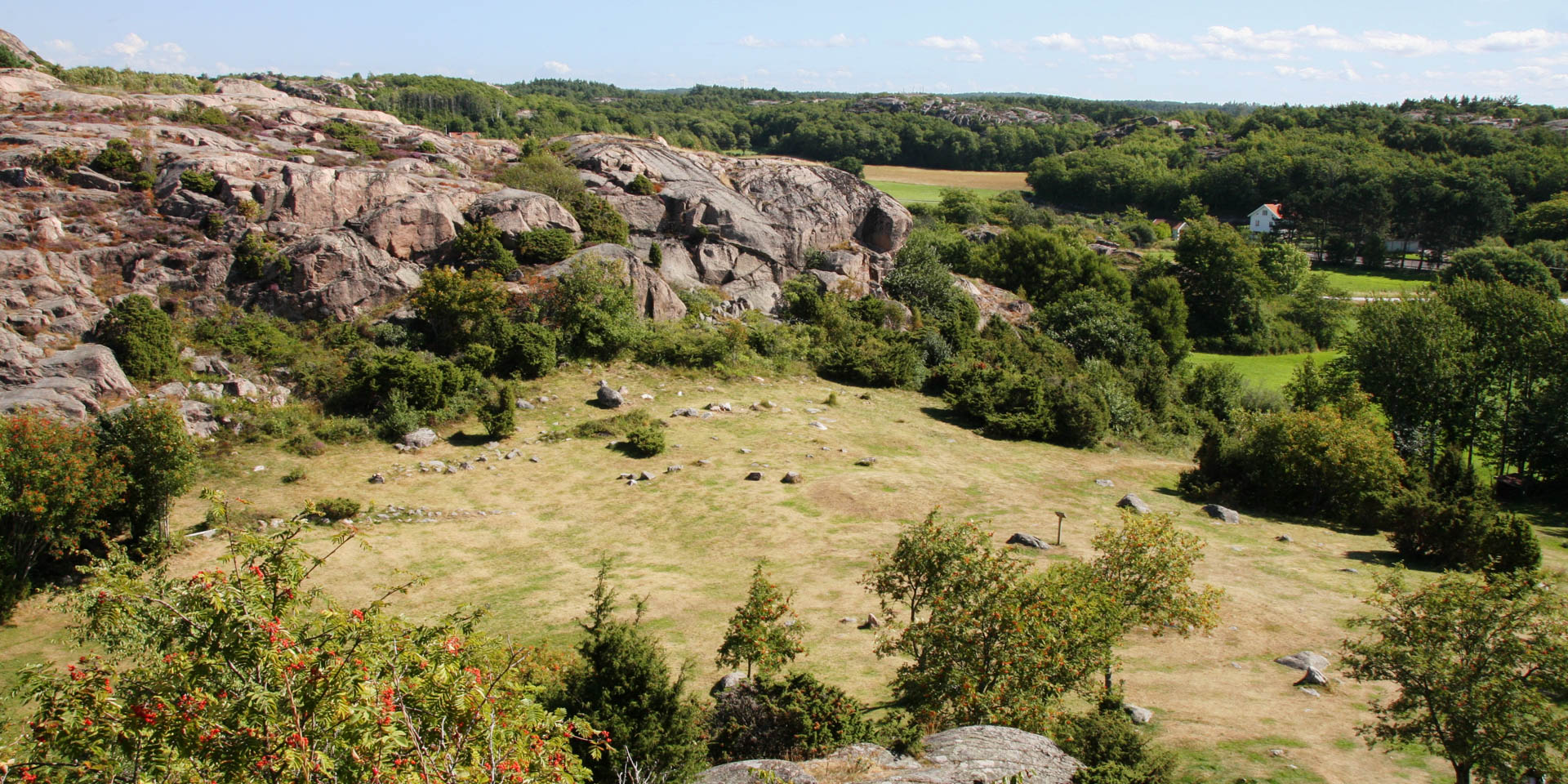 Insider tip
Hornborgs Slottsruin
Castle ruins in Hamburgsund
Hornborgs Slottsruin is the ruin of the former fortress Karlsborg. It is located on Slottsberget in Slottet, south of the town of Hamburgsund in the municipality of Tanum.
For a long time, the ruins of Karlsborg were considered lost. It was not until the end of the 19th century that the archaeologist Wilhelm Berg (1839 – 1915) rediscovered the ruins during excavations. In the process, he not only uncovered the remains of the walls that are visible today, but also found various historical war tools and working equipment.
The Hornborgsund, the bay in front of the castle hill, was already mentioned in an old legend from 1137. A fortress could therefore have stood on this spot as early as the Viking times. Today, the only reminder is the Viking market that takes place there once a year.
To explore Hornborgs Slottsruin, follow the path from the parking lot towards the west. There you will come across the rocky massif of Slottsberget. The few remains of the castle make it difficult to imagine what this place might have looked like, but the view from the top of the hill is all the more impressive. Visitors who make the ascent are rewarded with a spectacular view over the bay. This is maybe the real highlight of this destination.
The Karlsborg
In 1455, the influential Swedish imperial councillor and military commander Tord Bonde (around 1420 – 1456) had Karlsborg built. Tord Bonde was the cousin of the then Swedish king Karl Knutsson (1408/1409 – 1470), after whom the fortress was named. Only one year after its construction, Tord Bonde was murdered in Karlsborg with an axe in his sleep by Jösse Bosson, an imperial administrator from Denmark.
During the wars between Sweden and Denmark, Karlsborg was repeatedly the scene of battles. Ultimately, the castle was destroyed on December 13, 1531, when Christian II. (1481 – 1559) of Denmark conquered the area.
The ruins of Karlsborg then fell into oblivion and the strategically interesting point also lost its importance after the peace between Sweden and Denmark in 1658.
Similar destinations in the area