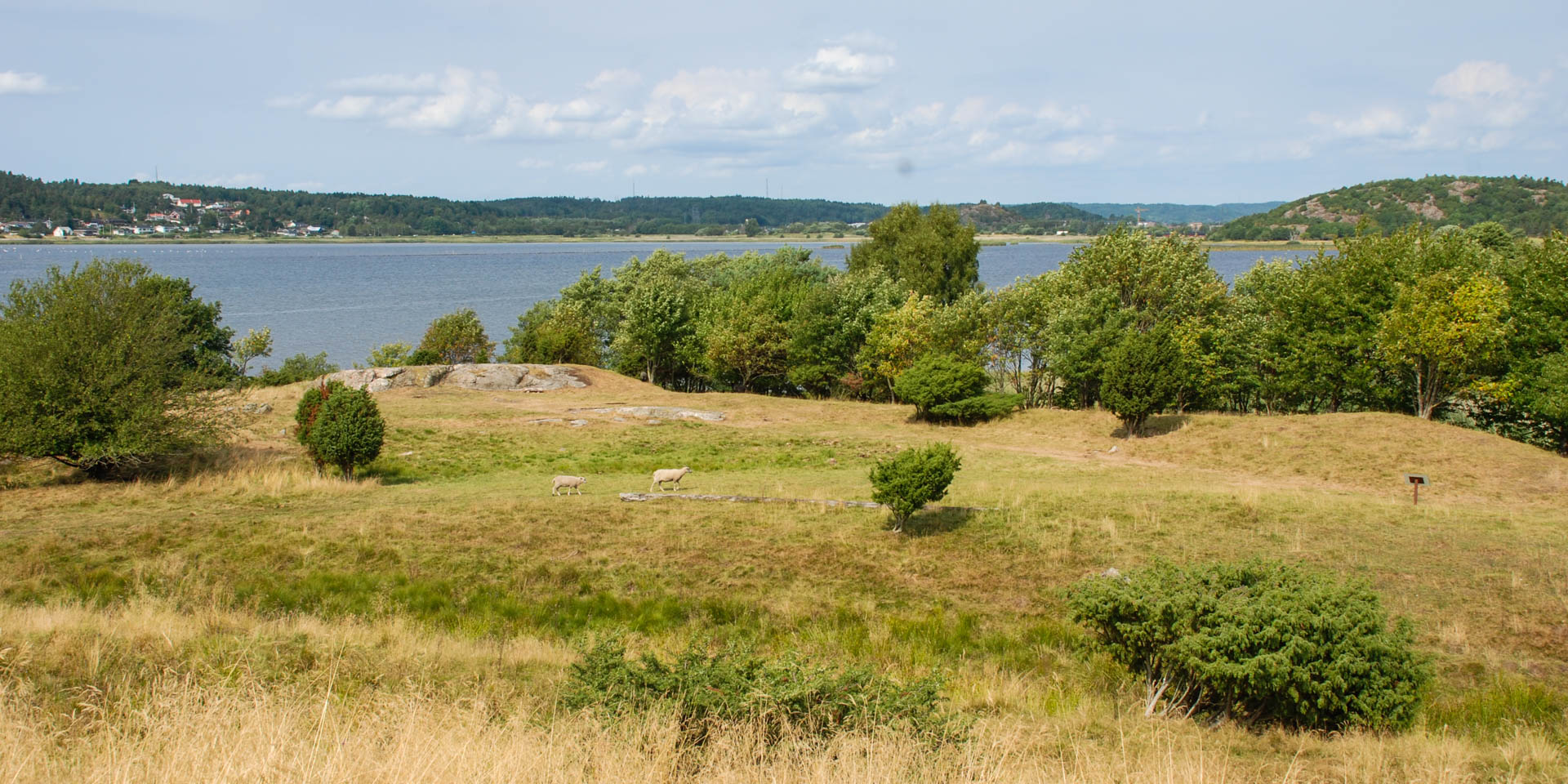 Hunehals Borg
Castle ruins near Kungsbacka
The castle ruins of Hunehals Borg are located on the elevated Hanhalsholme peninsula on the eastern shore of the Kungsbackafjord, about five kilometres south of Kungsbacka in the municipality of Kungsbacka Kommun.
Hunehals Borg was probably built around 1290 by Jakob Nielsen (around 1250 – 1308) after he was found guilty of the murder of his cousin, the Danish King Erik Klipping, in 1286. He fled to his inherited county in the north of Halland and, as Count Jakob of Halland, also had a castle built in Varberg from 1287 for his protection. This still exists today as Varbergs Fästning.
The castle of Hunehals was also popularly known as "The Castle of the Outlaws", which describes well the status of the count and his followers. After his death, dominion over the region changed frequently between the powers of Denmark, Norway and Sweden. The last mention of the castle dates from 1328, when it was last besieged.
The castle then fell into disrepair and was forgotten until 1382, when Kungsbacke Castle was mentioned for the first time. Today, it is assumed that this castle must have been on the same site, but probably only consisted of a manor house, which did not exist for long.
Exploring the Hunehals Borg
A cultural trail leads from the parking lot across the peninsula and through the former castle grounds. Signposts provide information about the different parts of the castle and also contain QR codes that visitors can use to find out more about life at the castle in the Middle Ages.
The ruins are well visited, especially in summer, and the association Hunehals Borg offers guided tours. Once a year, the association also organises the Hunehals Medieval Day at Hanhalsholme. Visitors can watch knight shows and theatre performances or shop at the craft and medieval market. The association also carries out archaeological excavations. Most recently, in 2014 and 2016, objects such as arrowheads from the second half of the 14th century were also discovered, suggesting that the castle still existed after 1328, when it was last mentioned.
The church Hanhals Kyrka is located only about 2.5 kilometres east of Hunehals Borg. According to legend, the southern gate of the castle was brought here and used as an entrance gate.
Similar destinations in the area