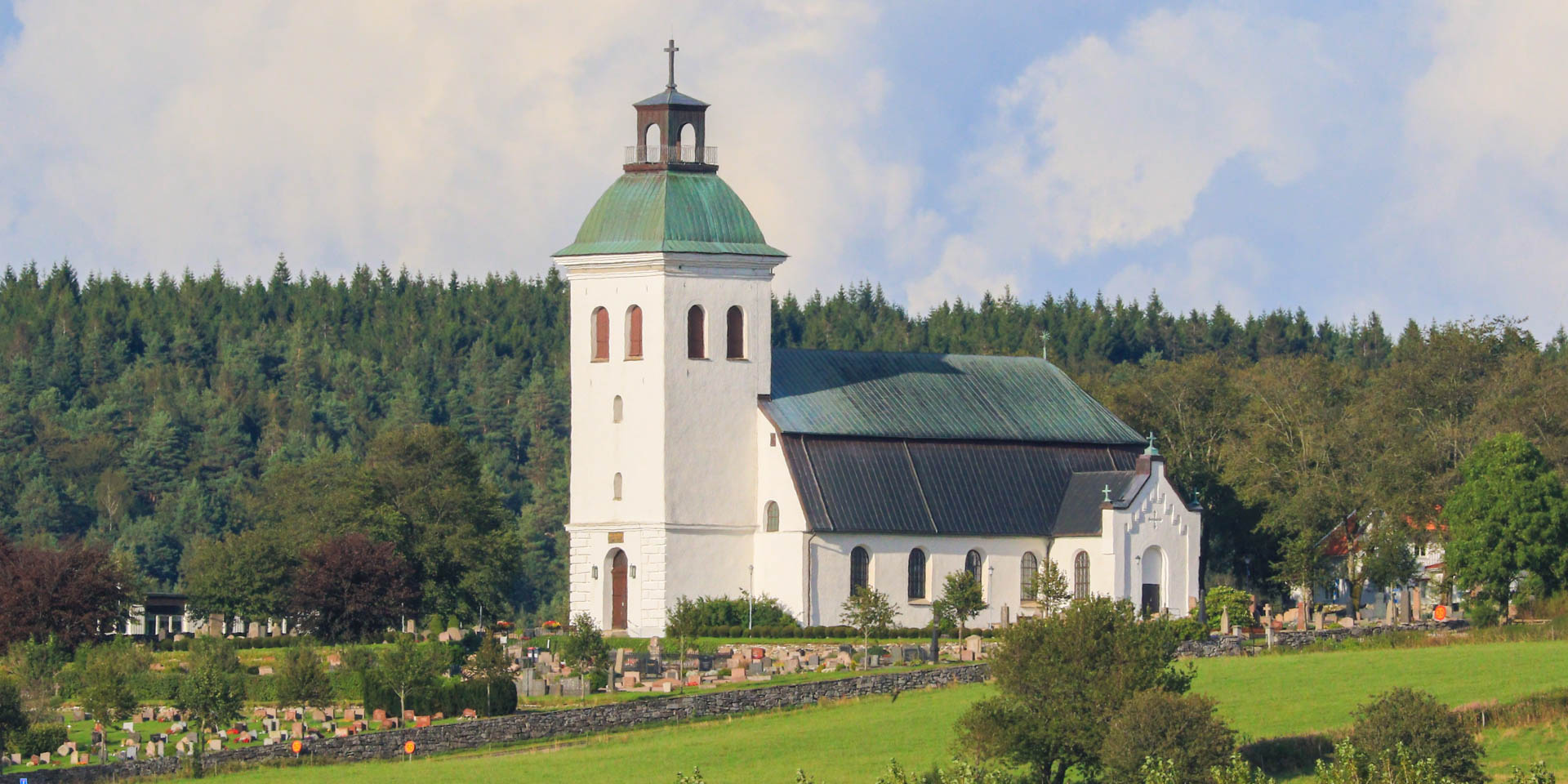 Fjärås Kyrka
Historic church in Fjärås Kyrkby
The Fjärås Kyrka, whose roots go back to the 12th century, is located in the village of Fjärås Kyrkby in the east of the municipality of Kungsbacka Kommun, which is situated on the west coast of Sweden.
The church stands clearly visible on a gravel moraine called "Bräckan", which was left behind by an ice-age glacier about 10,000 years ago. The moraine on the edge of Lake Lygnern, which covers around 30 square kilometres, looks back on a long history of settlement, to which numerous Bronze and Iron Age remains, such as the nearby Viking-age burial ground of Li, bear witness.
Much of the building substance of the original Romanesque church from the Middle Ages no longer exists, since Fjärås Kyrka was extensively enlarged in 1762/63 and rebuilt in a classical style. The medieval chancel and the south wall of the nave were demolished and the church was enlarged in the east and south directions. The present church tower as well as the entrance hall on the south side and the sacristy on the north side were built in the course of the 19th century.
Fjärås Kyrka from the inside
Inside, Fjärås Kyrka is designed as a hall church with a high tunnel vault. The ceiling vault, covered with wooden panels, is painted in bright white, just like the walls, so that the dark shades of the objects from the previous church stand out in sharp contrast.
These include the large wood-carved altarpiece, which was created in the 1630s in a mixture of Renaissance and Baroque styles, or the pulpit with canopy, dated to around 1659, whose carved motifs depict the evangelists and biblical scenes. Towards the exit, it is the balustrade of the organ loft that stands out against the light colours of the large organ. It dates from around 1650, stretches across the entire width of the nave and is decorated with 23 images depicting various characters from the Old and New Testaments.
The oldest object inside Fjärås Kyrka is the baptismal font in the chancel, which according to its inscription dates from 1596. This baptismal font also has a high rarity value, as it is not made of hewn stone or carved wood like the vast majority of old baptismal fonts, but was cast in bronze.
Similar destinations in the area