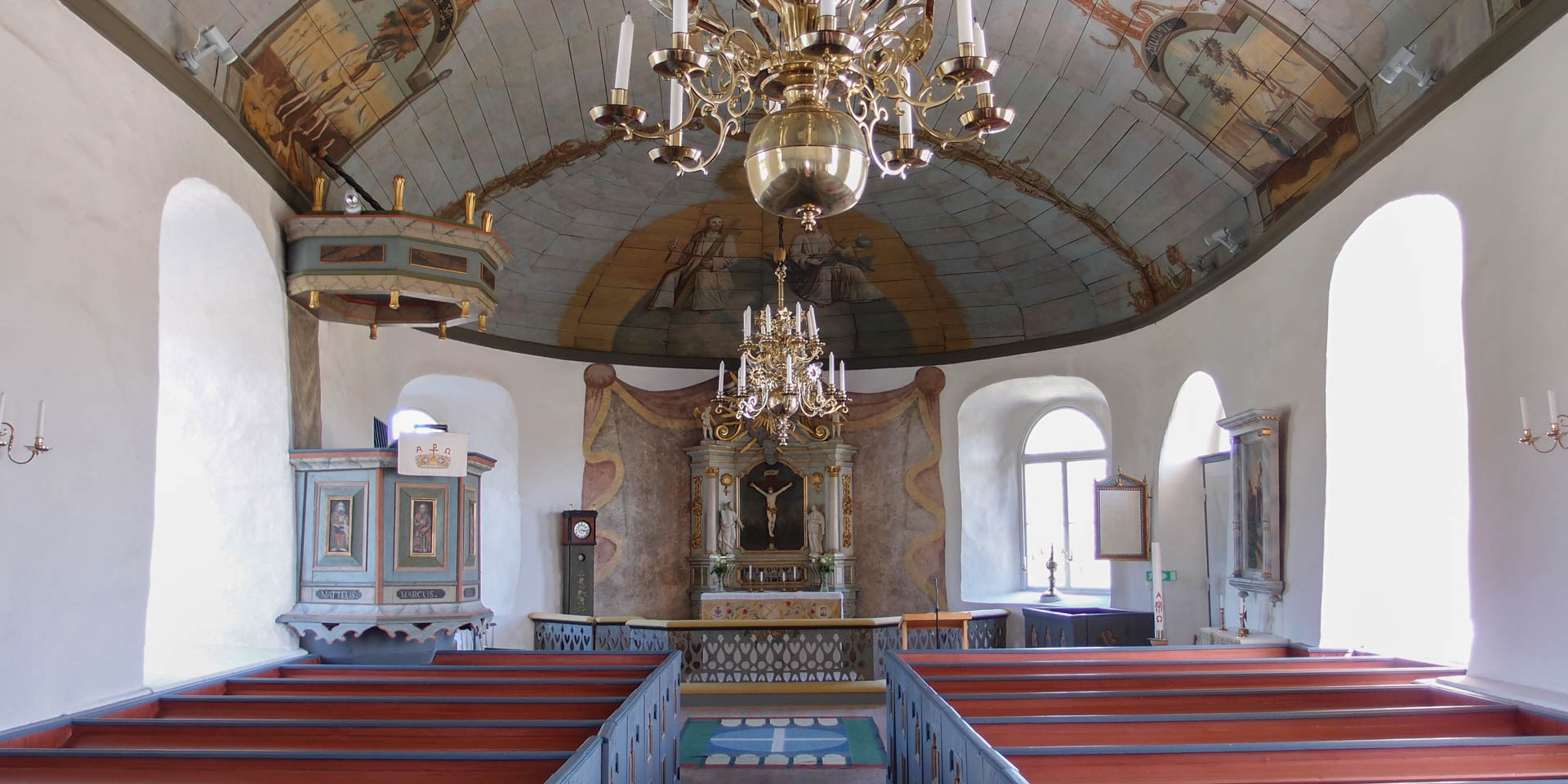 Gällinge Kyrka
Medieval church in Gällinge
Gällinge Kyrka dates largely from the 12th century and is located in the small village of Gällinge in the immediate vicinity of Lake Bysjönin in the southern half of the municipality of Kungsbacka Kommun.
The oldest part of Gällinge Kyrka is the nave, which was built in 1130 according to an inscription in the masonry found when the tower was added later. The masonry of this part of the church is around two metres thick, while the masonry of the chancel, which was newly built in 1765 as part of the extension of the church, was considerably thinner.
In order to conceal the clear differences in wall thicknesses, the entire old south wall of the nave was demolished at the time and replaced with less thick masonry. Nevertheless, the asymmetry of the church is noticeable. The windows on the two long walls of the nave are arranged differently, the heights of the walls are different and the curvature of the ceiling vault differs between the northern and southern sides of the church. Even the width of the pews is different on both sides and the organ is also clearly off-centre on its gallery.
The tunnel vault made of wooden panels was installed in 1767 and painted in the same year by an unknown master. The large ceiling motif in the chancel symbolises the Trinity and the other motifs show different biblical scenes.
The altarpiece with wood-carved figures dates from 1757, before the rebuilding of Gällinge Kyrka, while the drapery behind the altarpiece was painted on the wall in 1795 by the painter Jacob Magnus Hultgren from Varberg. In the same year, Hultgren redesigned the pulpit, which originally dated from the 16th century, and added the images of the four evangelists.
Built in 1828, the steeple is the second youngest extension of the church and breaks with the architectural style of the nave. Due to its period-typical architecture with a flat roof and rectangular roof lantern, the tower is a typical example of neoclassicism in contrast to the rest of the church, but its size influences the overall visual impression of the church in its direction. The sacristy is the latest addition to the church and was added in 1828.
Similar destinations in the area