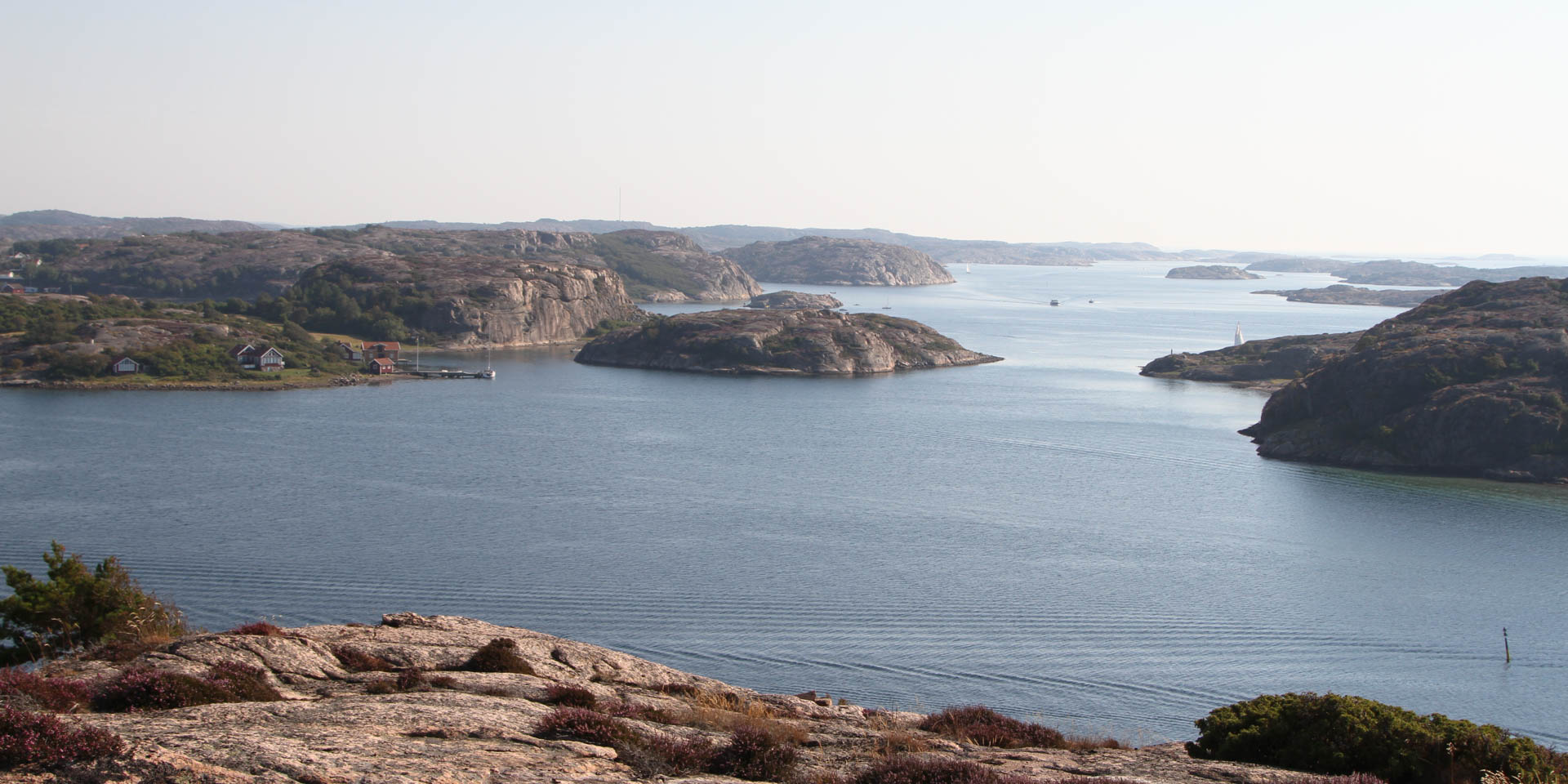 Hjärteröarkipelagens Naturreservat
Nature reserve near Fjällbacka
The nature reserve Hjärteröarkipelagens Naturreservat is situated off the west coast of Sweden at the well-known tourist resort Fjällbacka in the south of the municipality Tanums Kommun.
The small island archipelago, over which the 362 hectare Hjärteröarkipelagens Naturreservat extends, is located in one of the most beautiful parts of the Bohuslän archipelago. The nature reserve is only about two kilometres from Fjällbacka as the crow flies and consists of the island of Hjärterön as the eponym of the reserve along with the neighbouring island of Korsön, which is about the same size, and a number of smaller neighbouring islands.
The archipelago around Hjärterön has the same appearance as most of the other islands in the western archipelago – barren rocky islands with contours rounded by glaciers, wind and sea, rising high above the sea. On the surface, most of the bare rock is visible; only in the narrow shallow cuts between the individual ridges and directly on the shores has a little soil accumulated, which has produced low-growing but species-rich vegetation.
Because this layer of soil is not very thick and can only store a little water, the ground vegetation consists mainly of dry grassland, in which common cowslip (Primula veris), bloody crane's-bill (Geranium sanguineum), thrift (Armeria maritima), heartsease (Viola tricolor) or the common milkwort (Polygala vulgaris) grow.
The further vegetation and birds on the islands
In order to preserve this type of vegetation and prevent scrub encroachment, dry grasslands are traditionally grazed by sheep. Nevertheless, there are some wind-protected areas in which small thickets with low bushes of wild privet (Ligustrum vulgare), buckthorn (Rhamnus cathartica) or European yew (Taxus baccata) have formed.
On the island of Hjärterön, there is even a small dense forest of oaks that grow strangely low in one of these small valleys. There and also in the bush thickets are the breeding grounds of some songbird species such as the common linnet (Linaria cannabina), the yellowhammer (Emberiza citrinella) or the European robin (Erithacus rubecula) and at night the song of the common nightingale (Luscinia megarhynchos) occasionally resounds over the island.
Hjärteröarkipelagen is only accessible by boat
There is no regular ferry connection to the almost uninhabited islands, but there are several beautifully situated landing places for those who visit the nature reserve with their own boat. In the summer months, however, there are occasional archipelago boats that cross over to Hjärterön to bring bathing guests, who wish to spend a peaceful day swimming in one of the small sandy bays or relaxing on the warm rocks.
Similar destinations in the area