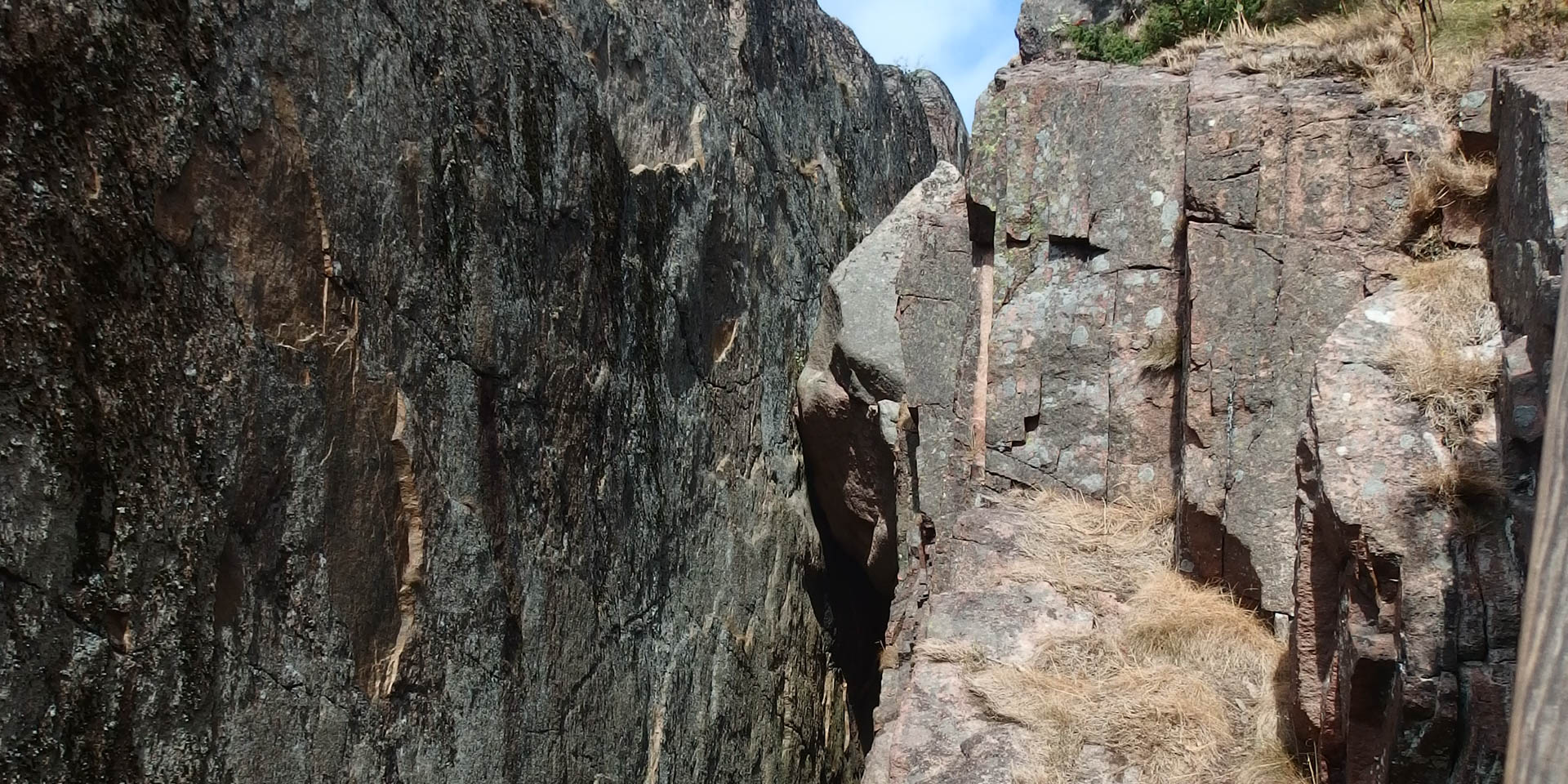 Popular destination
Kungsklyftan Fjällbacka
Rock crevice in Fjällbacka
The well-known rock crevice Kungsklyftan is located at the harbour of the picturesque coastal town Fjällbacka in the south of Tanums Kommun and is not only an exciting natural monument, but was also one of the locations for the filming of Astrid Lindgren's Ronia, the Robber's Daughter.
The rocky gorge is over 200 metres long and several metres deepn and is actually called Ramneklovan, but since a visit by the Swedish King Oscar II in 1887, when the monarch immortalised his name sign in the rock at the northern entrance to the narrow gorge, it has been called Kungsklyftan (King's Crevice).
Attentive viewers of the film adaptation of Astrid Lindgren's Ronia, the Robber's Daughter will recognize Kungsklyftan with its jammed boulders as the wolf's gorge where Ronja ran into Matt's Forest.
The Kungsklyftan runs in a straight line from north to south and divides the over 70 meters high Vetteberget as the local mountain of the former fishing village Fjällbacka into two unequal parts – the small Lilla Vetteberget and the large Stora Vetteberget.
The differences in size between the two parts of the mountain are already enormous. While the bigger part seems to be huge, the small Vetteberget with its vertical rock walls almost reaching the harbour basin looks more like an appendage. Viewed from the air, the Kungsklyftan gives the impression that someone has cut the appendage off the big mountain with a huge chisel.
Hiking through the Kungsklyftan gorge
Usually the entrance to the Kungsklyftan is from the north side. At the harbour, at the height of the memorial bust for the actress Ingrid Bergman, between the houses nestling closely to the steep rock face, a path leads to a wooden staircase leading up to the crevice. In the gorge the path then climbs steadily and leads over loose rubble and rocks. Sturdy shoes and a normal physical constitution should be a prerequisite for making your way through the gorge.
Halfway through the gorge, you will come across the most striking spot of the Kungsklyftan when you walk under the four mighty boulders that were jammed in the crevice ages ago. Just before the southern end of the Kungsklyftan, wooden stairs lead up to the viewpoint on the top of the Vetteberget. From up there you have an enchanting panoramic view over Fjällbacka and the rocky islands of the adjacent archipelago, and you can also sit down for a picnic break in the face of the beautiful view.
The gorge is not suitable for wheelchairs, walkers or prams because of the stairs and the stony path leading through it. Those who want to climb up to the Vetteberget, but do not dare to take the steep stony path through the gorge, can also go to the southern end and use the stairs to the viewing platform there.
Similar destinations in the area