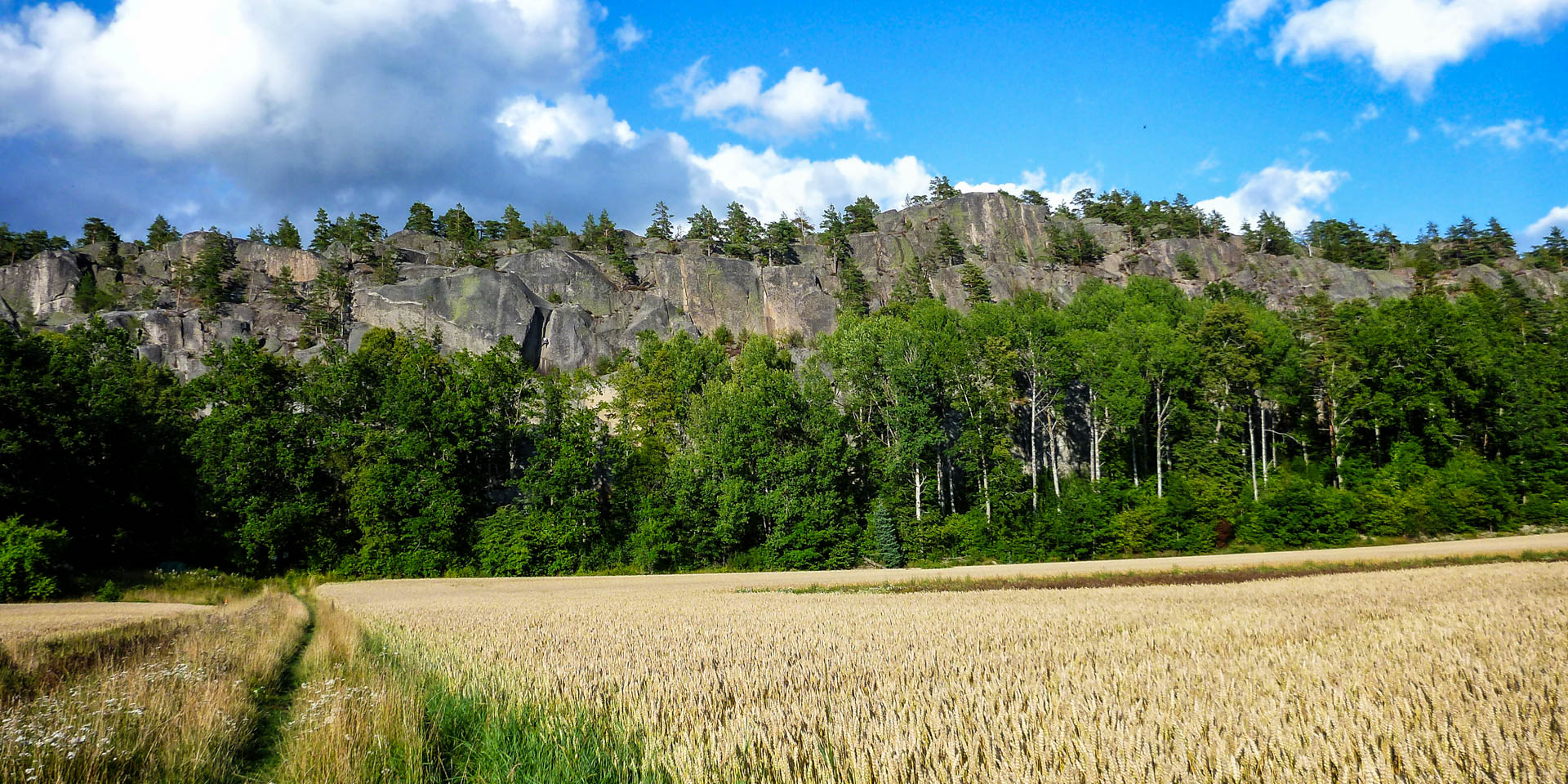 Simonbergets Naturreservat
Nature reserve near Koppartorp
Simonbergets Naturreservat is an interesting nature reserve and a popular climbing spot. It is located on a remarkable rock massif at the edge of the old mining and church village Koppartorp in the southeast of the municipality of Nyköping.
The 42 hectare Simonbergets Naturreservat consists of two adjacent wooded rock massifs. About two thirds of the area is made up of the approximately 70-meter-high Simonberget and the rest of the area is covered by the approximately 80-meter-high Kummelberget.
Both rock massifs have a gentle slope on their northeastern side, while the rock walls on their southwestern side drop almost vertically along their entire length. The cliffs on Simonberget are a popular and quite well-known climbing area with marked climbing routes of varying degrees of difficulty. On the neighboring Kummelberget, however, climbing is explicitly forbidden.
Kummelberget is also subject to the extended protection of a bird sanctuary and may not be entered during the period from February 1 to August 15. Eagle owls nest on the mountain, which are a protected species in Sweden and are very sensitive to disturbance during the mating and breeding season.
Viewpoint & circular trail
Both rock massifs are densely forested with trees up to 200 years old. In the lower part of the mountains the forest consist of deciduous trees and spruces, which are replaced by low growing old mountain pines towards the summit. The circular trail within the nature reserve is part of stage 41 of the long-distance hiking trail Sörmlandsleden and offers an easy and a challenging tour through the nature reserve.
The easy variant of the path leads along the steep face of the Simonberget, between the two mountains to the flat back of the Kummelberget and from there around the mountain back to the steep face. The more challenging tour leads over steep ascents to the summit of the Simonberget, but can be managed with normal physical condition and sturdy shoes.
The drops of sweat spilled during the ascent are rewarded on the summit of the Simonberget by a wonderful view over the landscape. The view reaches far west over forests and fields to Koppartorp with the historical wooden church Tunabergs Kyrka and the mining museum at the old copper mine. In southern direction the view reaches to the coast and the archipelago islands in the entrance to the bay of Bråviken.
Similar destinations in the area