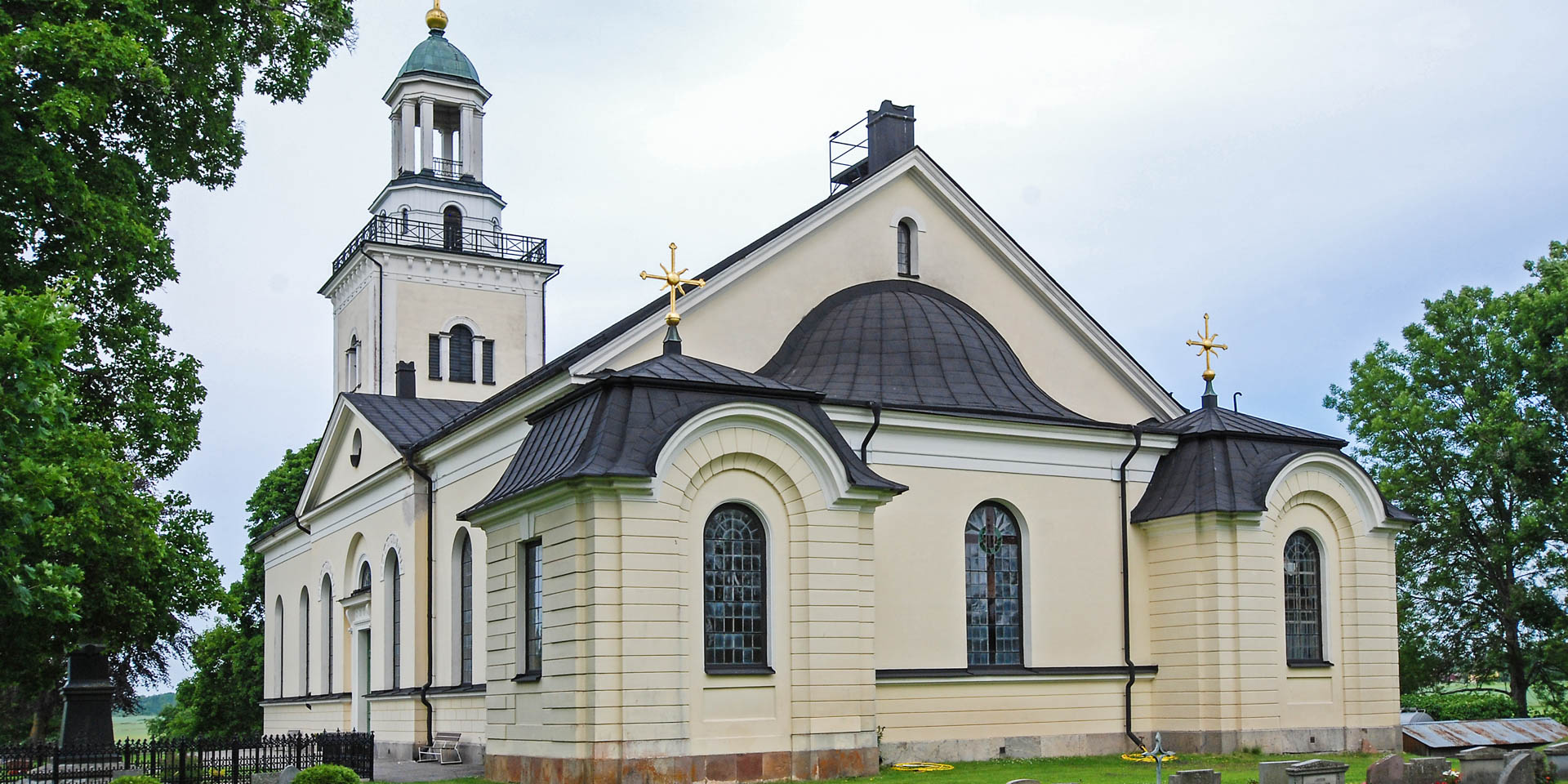 Öja Kyrka
Historic church near Alberga
Öja Kyrka is a fine example of 19th century classicist architecture. The church stands in the settlement of Öja near Alberga, not far from Lake Hjälmaren in the western part of the municipality Eskilstuna Kommun.
Consecrated in 1850, the Öja Kyrka consists of a rectangular nave with a flat gable roof, a sturdy square bell tower on the west side and a slightly vaulted apse for the chancel on the east side, flanked by two pavilions on the left and right.
The interior of Öja Kyrka
One of the pavilions houses the sacristy, while the other contains the burial chapel for the deceased members of the noble family Sparre, who owned the nearby castle Stora Sundby Slott from the 15th to the 18th century. The burial chapel is also the only remnant of its medieval predecessor church, which was demolished in 1847.
The interior of the Öja Kyrka is quite bright and friendly. The large round-arched windows let in a lot of light, and the white-painted walls and tunnel-vaulted ceiling do the rest. The closed pews themselves are kept in a medium shade of brown, but this is overruled by the light grey of the surrounding panelling.
The only wall decorations along the side walls are a few coloured epitaphs, which stand out very well on the pure white background, as does the richly decorated and gold-painted pulpit on the north wall of the nave. The pulpit and also the magnificent chandeliers as well as the large organ date from the time when the new church was built, while some other valuable objects were taken over from the predecessor church.
This includes the altarpiece, which dates from 1661 and is decorated with a great deal of gold in the style of the Baroque, as well as a Pietá carved out of oak from the late 15th century and the foot of the baptismal font, which dates from the 13th century and is carved out of stone.
Similar destinations in the area