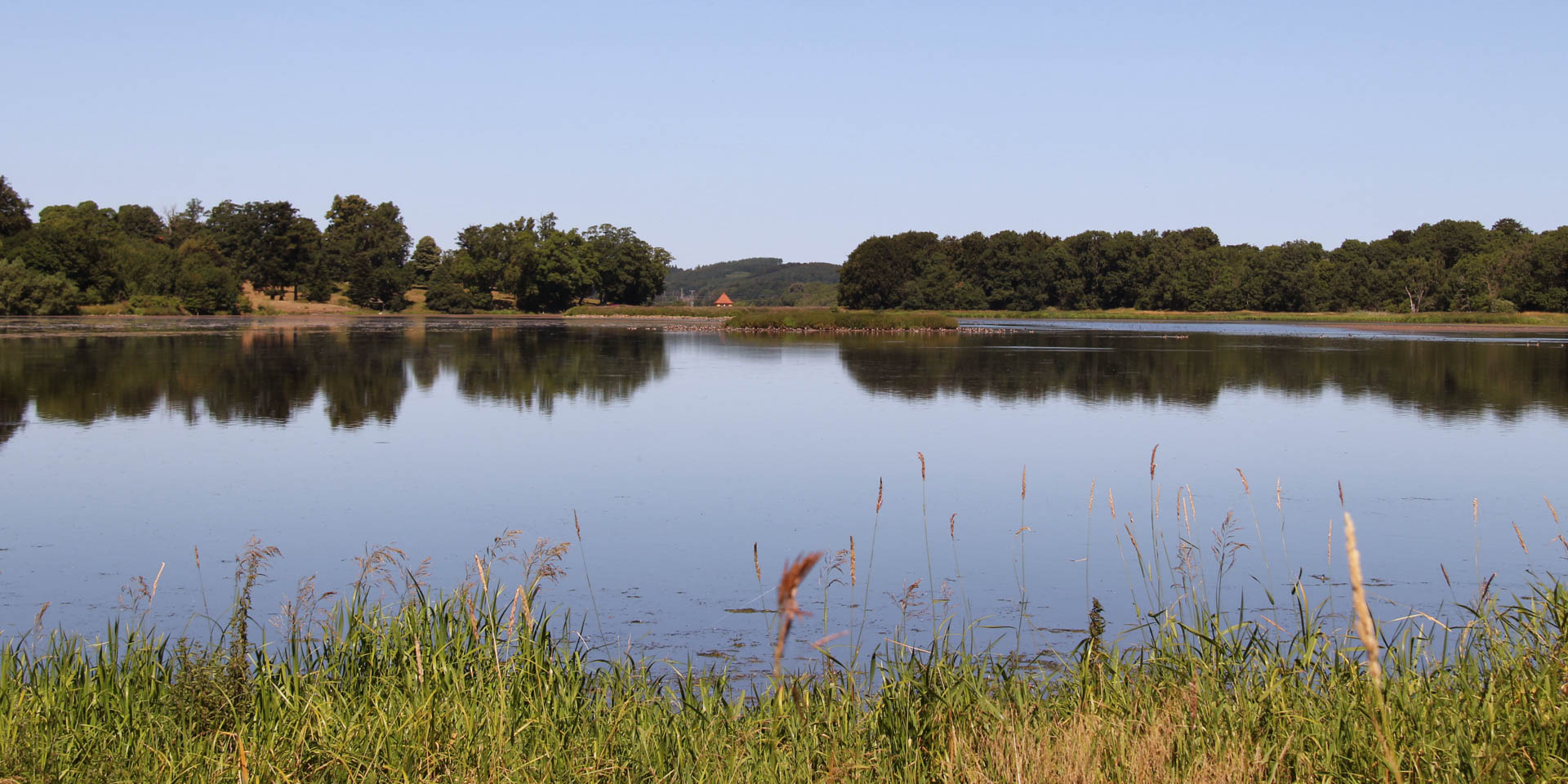 Näsbyholmssjön
Renaturalised lake near Skurup
Just outside the gates of Skurup, in the heart of Skurups Kommun, you will find the lake Näsbyholmssjön, a successfully completed major project to restore an inland lake and a place for bird watchers.
Until the 1860s, Näsbyholmssjön was the second largest lake in Skåne – only surpassed by the Ivösjön, which is the largest lake in Skåne with a water surface area of approximately 50 square kilometres, located in the municipalities of Kristiansstad and Bromölla in the north-east of the province.
The Danish agronomist Peter Berendt Feilberg drained the Näsbyholmssjön, which was formed at the end of the last ice age about 17,000 years ago, by order of the government. In view of the strong population growth at that time, the government resorted to such measures to expand the very fertile soil of the Söderslätt region by several hectares of arable land.
The renaturation of Näsbyholmssjön
In the mid-1990s, Söderslätt's largest landscape transformation project to date was launched, and by the end of 2004 the successful restoration of a section of Näsbyholmssjön had been completed. The old bay Svenstorpsviken was restored, so that today's Näsbyholmssjön with its 45 hectares of water surface is only a tenth of the size of the original lake. After all, this is equivalent to the area of 90 football fields and the water volume is around 600,000 cubic metres.
Over the years, flora and fauna have gradually reclaimed the lake. In late winter and early spring flocks of wild geese and ducklings rest there on their way north. In the summer tufted ducks (Aythya fuligula), eurasian coots (Fulica atra) and mute swans (Cygnus olor).
In autumn and winter, the airspace above the lake belongs to birds of prey such as the common buzzard (Buteo buteo), European kestrel (Falco tinnunculus), northern goshawk (Accipiter gentilis) or lesser spotted eagle (Clanga pomarina). Recently, after an absence of more than ten years, the first specimens of the endangered eastern imperial eagle (Aquila heliaca) have been seen, which is wintering in Sweden again.
Due to the bird population the lake has become a popular destination for bird watchers and photographers. There is no observation tower, but in bad weather the covered resting place of the parking lot on the south shore of the lake is an alternative. A circular walk around the lake is also possible. There is currently no marked trail, but armed with a useful hiking map, you can find a route of about six kilometres, which starts at the parking lot and leads around the lake on a network of small roads and tracks.
Similar destinations in the area