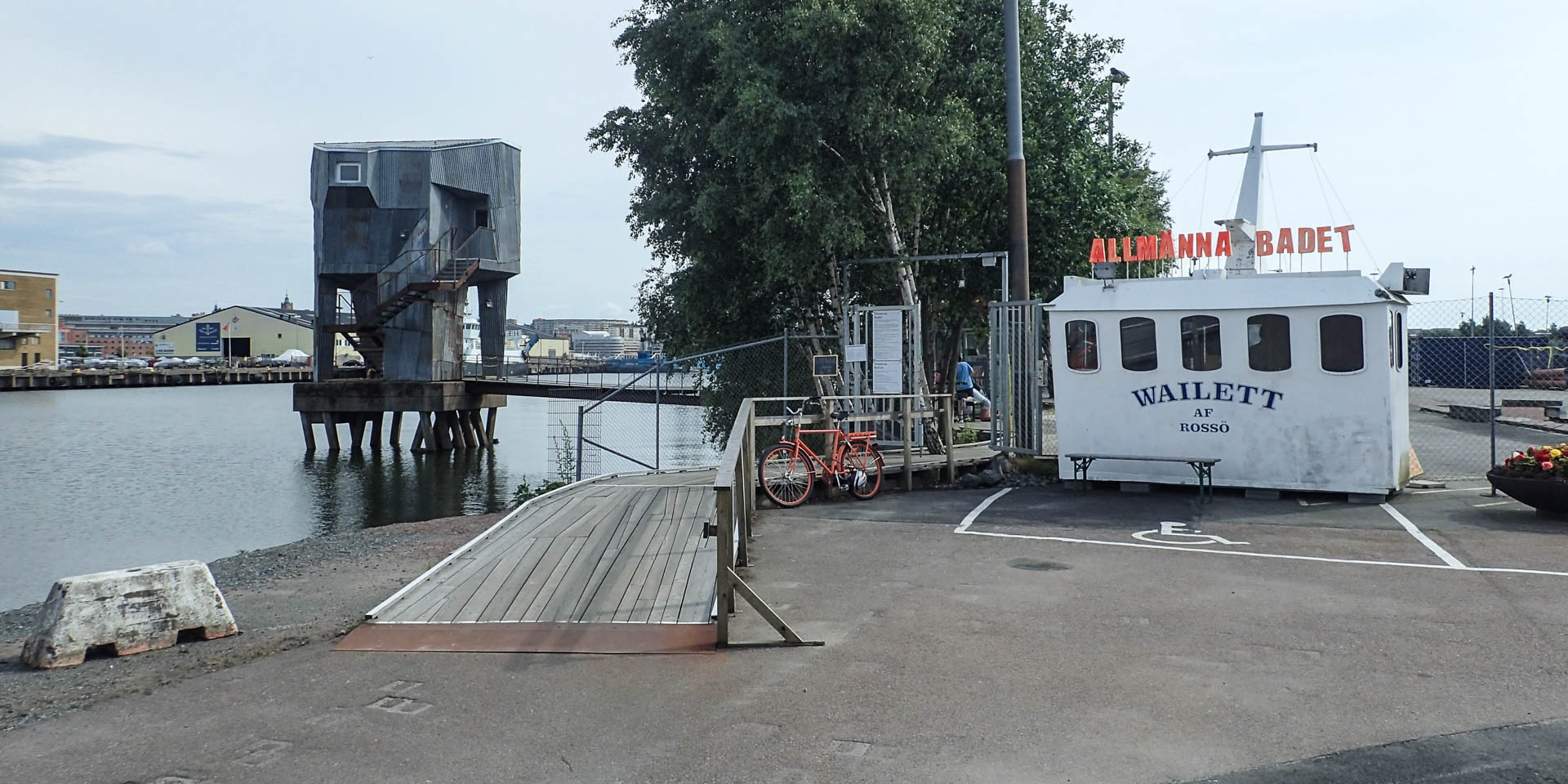 Bastun i Frihamnen
Futuristic sauna in the Gothenburg free port
The public sauna Bastun i Frihamnen, whose futuristic-looking silhouette is somewhat reminiscent of the shape of a harbour crane, is located in a basin of the old free port in the centre of Gothenburg.
Bastun i Frihamnen was opened in spring 2015 and is one of the first buildings of the Jubileumsparken, which is currently under construction and will transform the old industrial harbour into a large public leisure area to be completed by the 400th anniversary of Gothenburg in 2021.
The sauna building is located on an old mooring platform in the harbour basin and is connected to the pier by a narrow wooden bridge, where the changing rooms and showers are located. The outer façade of Bastun i Frihamnen is made of recycled corrugated iron sheets and, in combination with its shape, fits in very well with the ambience of the industrial environment. The recycling idea is continued in the shower rooms, whose walls are made of a total of 12,000 used glass bottles.
The sauna has a women's and men's section as well as a mixed section. It is open all year round, at least four days a week, daily during the summer, and can be used free of charge. In the immediate vicinity there are two bathing places in the form of floating pools, one filled with fresh water and the other with sea water, which can also be used to cool off after a sauna session.
The spectacular design of Bastun i Frihamnen was created by the German architects' collective Raumlabor-Berlin and won the architecture prize of the Västra Götaland architects' association (SAVG) in 2015.
Similar destinations in the area