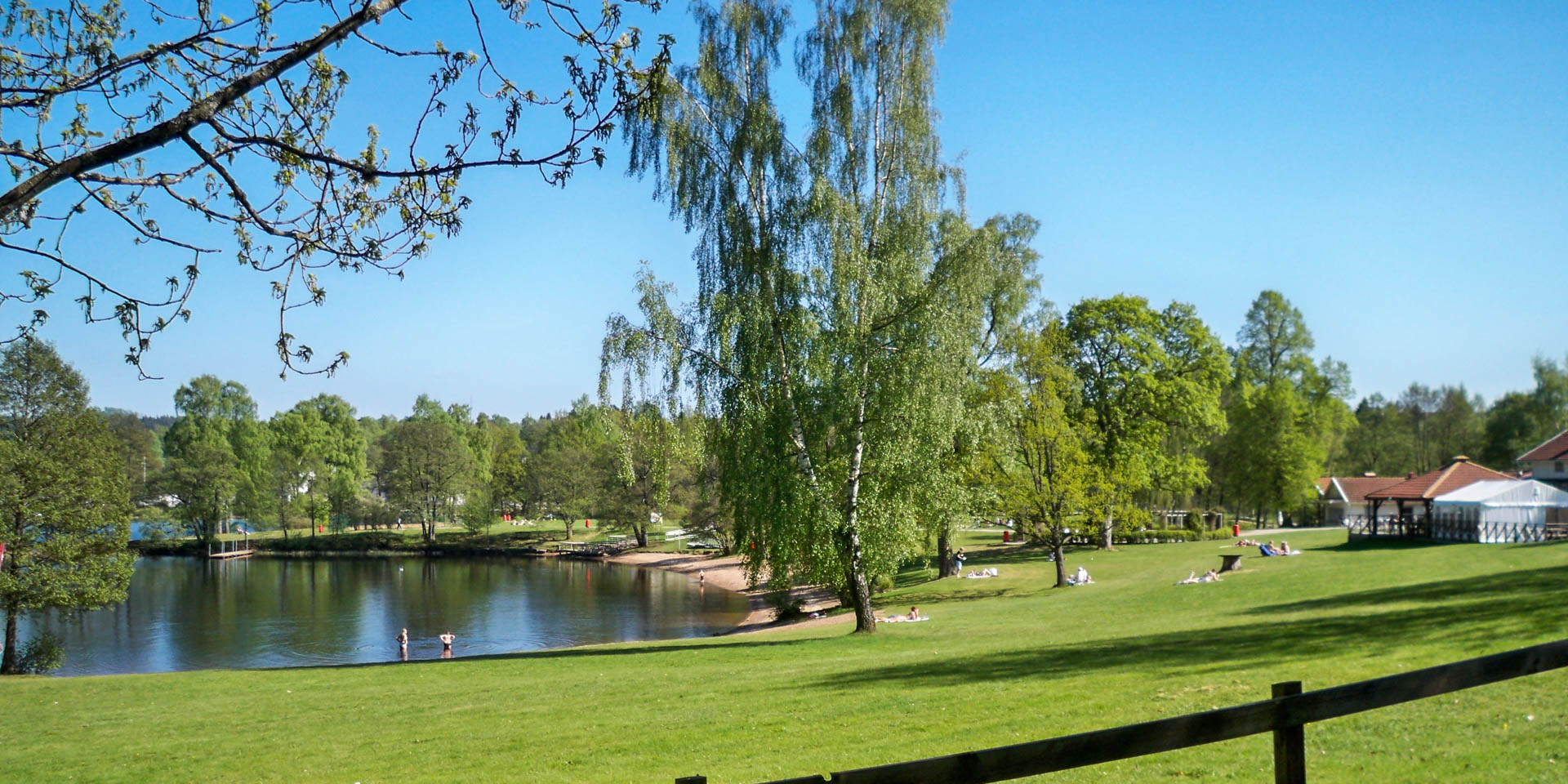 Almenäs Badplats
Large beach at Lake Öresjön in Borås
The large Almenäs Badplats is located in a bay at the southern end of the approximately six square kilometres large lake Öresjö on the outskirts of Borås, the centre of Borås municipality.
With its 150 metres of sandy beach, excellent water quality and extensive facilities, Almenäs Badplats is the most popular bathing place in the municipality of Borås and attracts up to 3,000 visitors on warm summer days.
The beach shore is sandy and shallow, which makes the bathing place also suitable for small children. Right next to the beach is a large sunbathing lawn with a few free-standing trees, under which you can find a shady place to lie down if desired.
The equipment of the bathing spot is very extensive and consists of a bathing bridge and a wheelchair ramp leading into the water, as well as changing rooms, outdoor showers, several toilets and a few fixed barbecue areas with tables and benches. Furthermore, there is a large separate lawn for ball games and an area for beach volleyball, as well as one of the largest children's playgrounds in Borås.
Around the beach Almenäs
Right next to the beach is a boat rental for kayaks and pedal boats, with which you can set off on a leisurely tour of the six kilometres long and up to 1.5 kilometres wide Öresjön.
If you want to enjoy a long day of swimming or just have a cup of coffee and enjoy the beautiful view over the Öresjön, you can go to Café Almenäs above the bathing area. The café is open from the beginning of May to the end of August and offers drinks, pastries, salads and small dishes, as well as a wide selection of ice cream with 50 different flavours.
Similar destinations in the area