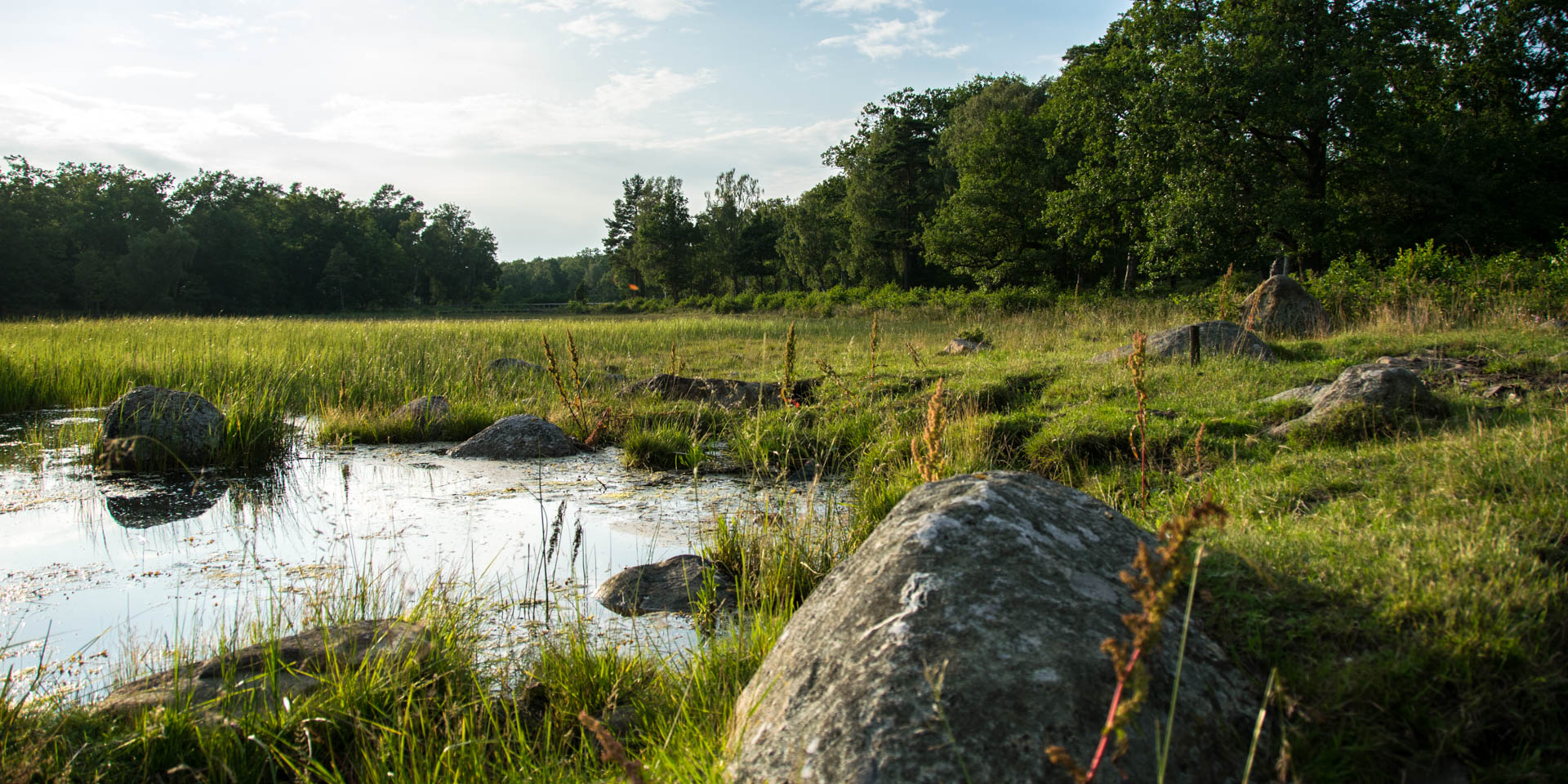 Vambåsa Hagmarker Naturreservat
Nature reserve near Almö
The nature reserve Vambåsa Hagmarker Naturreservat is located on the coast near the island Almö, about 17 kilometres southeast of Ronneby and represents an ancient cultural landscape with numerous prehistoric sites.
The 91-hectare nature reserve Vambåsa Hagmarker consists of two parts. In the southern part located directly at the coast you can find [left=4-308]Hjortahammars Gravfält[/link], one of the largest Iron Age burial grounds in [left=1-1]Blekinge[/link]. The much smaller northern part with ancient acres, graves and stone heaps is also considered an archaeological memorial.
The nature consists mainly of an oak forest and in the southern part also of open and species-rich pastures with single mighty oaks. The areas kept open for centuries by grazing have produced a very special flora and fauna, which would disappear if the areas were left to themselves.
The plants and insects of Vambåsa Hagmarker
In early summer, the meadows glow in the colours of sun-loving wildflowers, including numerous orchids such as the heath spotted-orchid (Dactylorhiza maculata). As a typical inhabitant of meadows, the medicinal plant wolf's bane (Arnica montana), which is now highly endangered in many parts of Europe, is well represented. Also larger populations of the relatively rare viper's-grass (Scorzonera humilis) occur on the meadows.
At the same time, the meadows are populated by a large number of insects, which are dependent on large sunny spaces. On sunny days a lot of butterflies are fluttering over the colourful blossoms, whereas the occurrence of the orange tip butterfly (Anthocharis cardamines) is very high.
The history of the old oaks
Since the 12th century, oak trees have been under the protection of the crown all over Sweden and could not be felled except as material for shipbuilding. Acorns were also the most important component of pig feeding. After the protection was revoked in 1830, many oak trees belonging to farmers were felled. On the noble estates, which also include Vambåsa, large old oaks were regarded as an external sign of wealth.
The old oak trees in Vambåsa are home to about 1,500 different life forms. Starting with various mosses and lichens on the coarse bark, to fungi that decompose the wood from the outside and inside, followed by numerous insects that live in and from the decomposing wood, to birds and bats that inhabit the tree hollows.
Similar destinations in the area