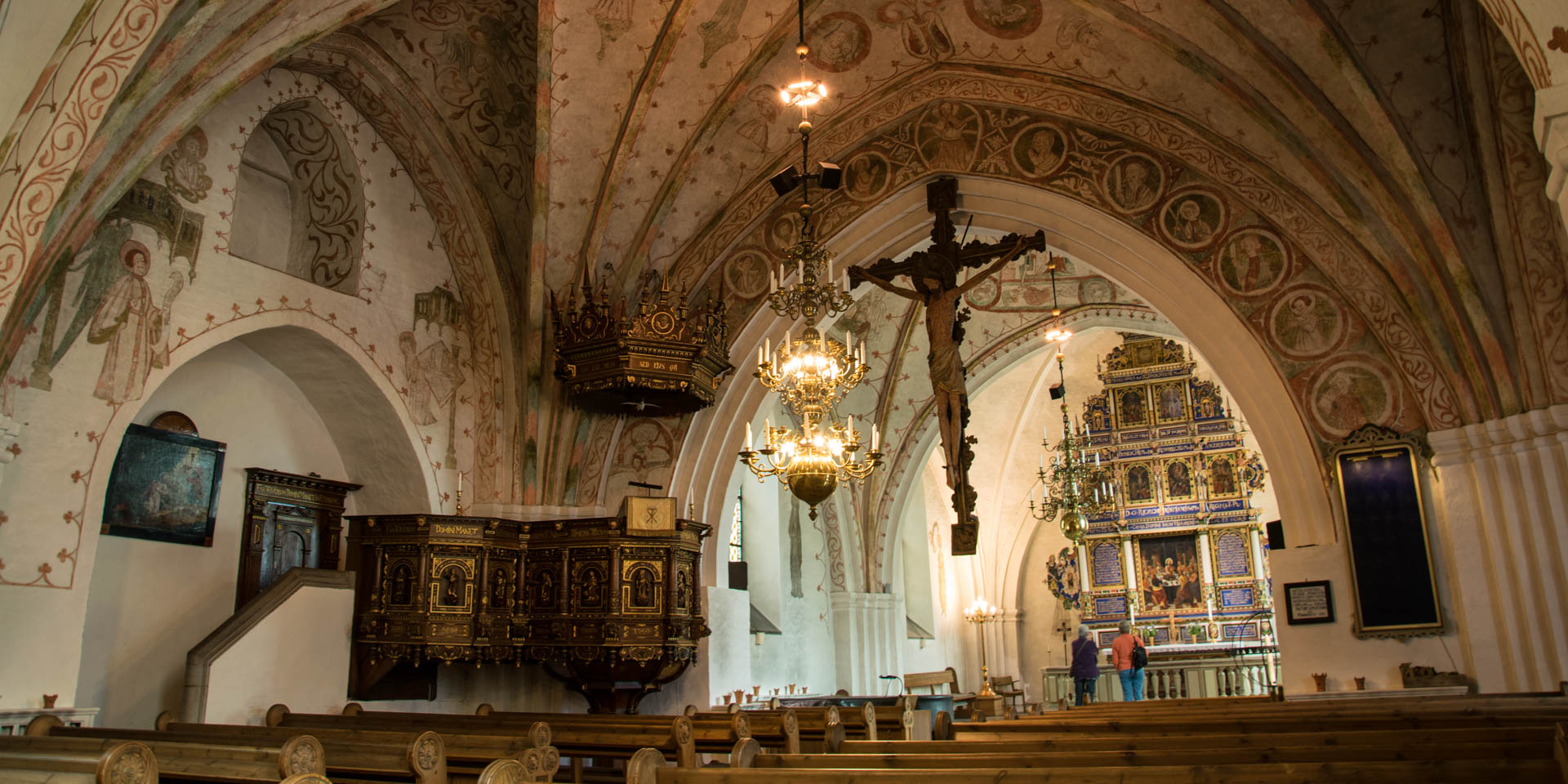 Sankt Nicolai Kyrka
Medieval church in Sölvesborg
The Sankt Nicolai Kyrka is located in the center of Sölvesborg and was built towards the end of the 13th century. With its Gothic arches and the red brickwork, the church is very similar to the redbrick-Gothic found in northern Germany.
The church is the only medieval building in Sölvesborg, since the city was destroyed by a devastating fire in 1801. The oldest part of Sankt Nicolai Kyrka is the choir which was attached to an older church. At the beginning of the 14th century, this predecessor church was demolished and the main nave was built. The tower was erected towards the end of the century.
Except for the Renaissance gable, which decorates the entrance portal since 1649, the church has been built in Gothic style. The star vaults are adorned with early 15th-century chalk paintings depicting biblical scenes from the life of Jesus and the Virgin Mary.
The multi-storey altarpiece is richly illustrated and decorated with wood carvings. It dates back to 1620, like the pulpit. The motto "Regna Firmat Pietas" (Godliness strengthens Kingdoms), which is on the pulpit, shows the influence of the reign of the Danish King Christian IV at the time.
In the porch of the church, the so-called "weaponhouse", stands one of Blekinge's most remarkable rune stones – the Stentoftestene. The stone, dating from around 500 AD, is one of only five known rune stones in Blekinge, which bear inscriptions in the urnordian Futhark, the oldest of the runes alphabets. The text of the inscription contains a spell formula and is one of the longest known texts written in this alphabet.
There is another rune stone in front of the porch, which also has an inscription written in Futhark. This stone comes from the ruins of the former Carmelite convent next to the church that was built at the behest of Pope Innocent VIII in 1446, and was closed almost 50 years later, at the beginning of the Reformation.
Sankt Nicolai Kyrka:

Opening hours
Opening hours
1. January – 31. December
Monday – Friday: 9:00 – 16:00
---
Last update: 07/2019 | Errors and omissions excepted.
Similar destinations in the area