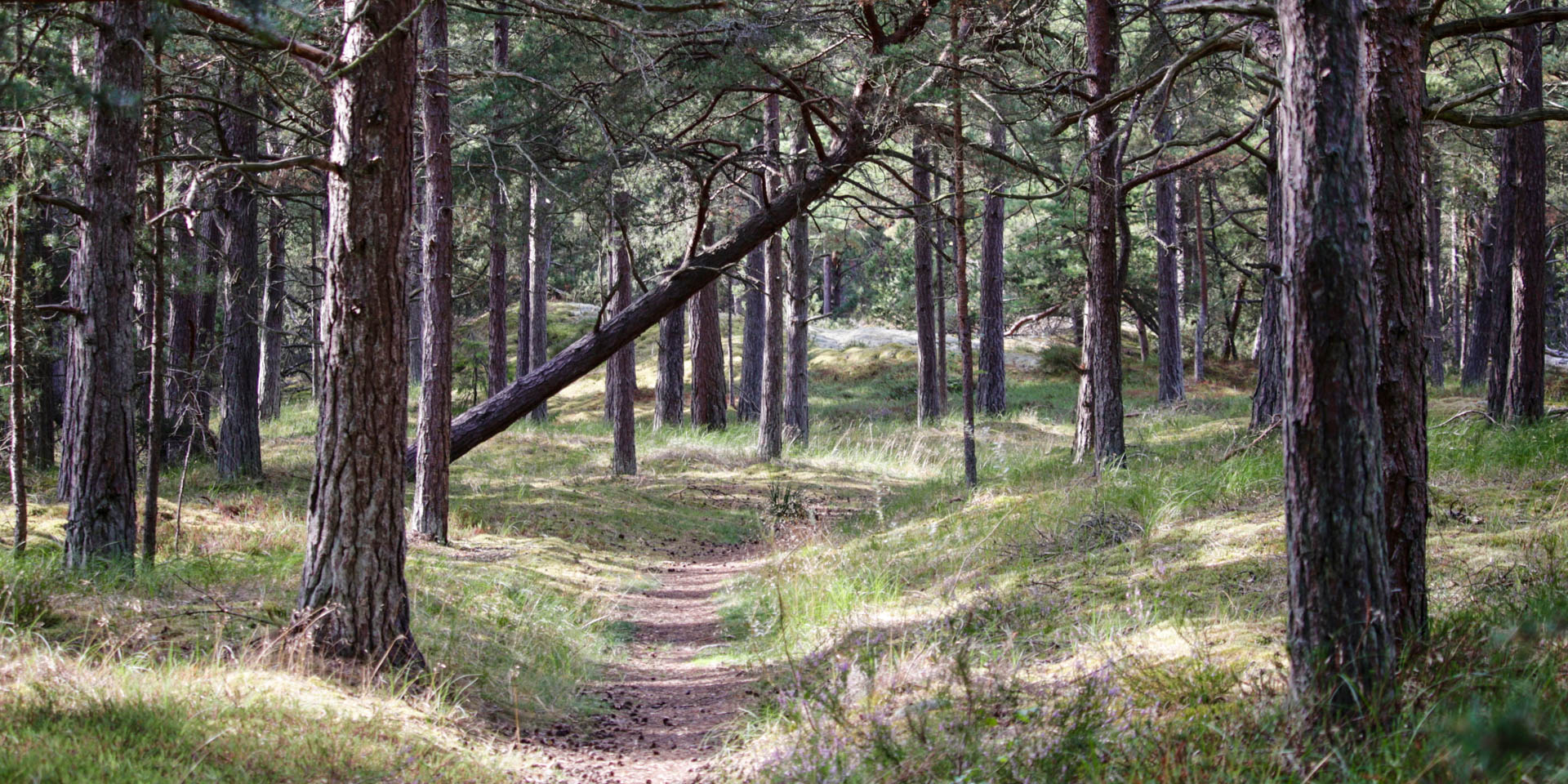 Mälarhusens Naturreservat
Nature reserve near Mälarhusen
The nature reserve Mälarhusens Naturreservat is located directly on the outskirts of the small village of Mälarhusen in the extreme south of the municipality Simrishamns Kommun and protects a densely forested part of the sand dunes on the coast of Österlen.
Mälarhusens Naturrreservat covers an area of about 46 hectares and extends as a narrow long strip from the coastal road on the south-western edge of Mälarhusen, down to the sea shore with the beautiful white sandy beach of Mälarhusens Strandbad.
On its western side, the nature reserve Mälarhusen borders directly on the nature reserve Sandhammaren, which is about ten times larger than the nature reserve and is already located on the territory of the neighbouring municipality Ystads Kommun. While in Sandhammaren you can find natural deciduous forest with numerous small gnarled oaks in addition to the pines that were planted in the 18th century to bind the drifting sand, the forest in Mälarhusens Naturreservat consists almost completely of pines.
By the way, the cause of the sand problem at that time was by no means of natural origin, but man-made and affected several areas of the Swedish south coast. In the 17th century, the oak forests reaching down to the coast had been felled in the affected areas, as their wood was used for shipbuilding during the Swedish great power era. What remained was an open heath landscape whose thin layer of vegetation was subsequently destroyed by overgrazing and the sand of the old dunes was exposed, which was now carried inland by the wind.
The sand became a serious problem as it threatened to destroy much needed farmland on a large scale. In order to control the problem and bind the sand in place, a great deal of effort was put into creating protective forests, with pine trees proving to be particularly well suited to thrive in the sandy soils.
Once planted, the forest in Mälarhusens Naturreservat was left to its own, with the result that the forest has been developing and renewing itself unhindered by natural processes for around 250 years. Depending on whether the subsoil is dry or damp, different biotopes could form over the long period of time, which ensure a great variety of species. In addition, dead and fallen trees are not removed, as they are the prerequisite for the survival of several insect species whose larvae live exclusively in and from the decomposing wood.
Similar destinations in the area