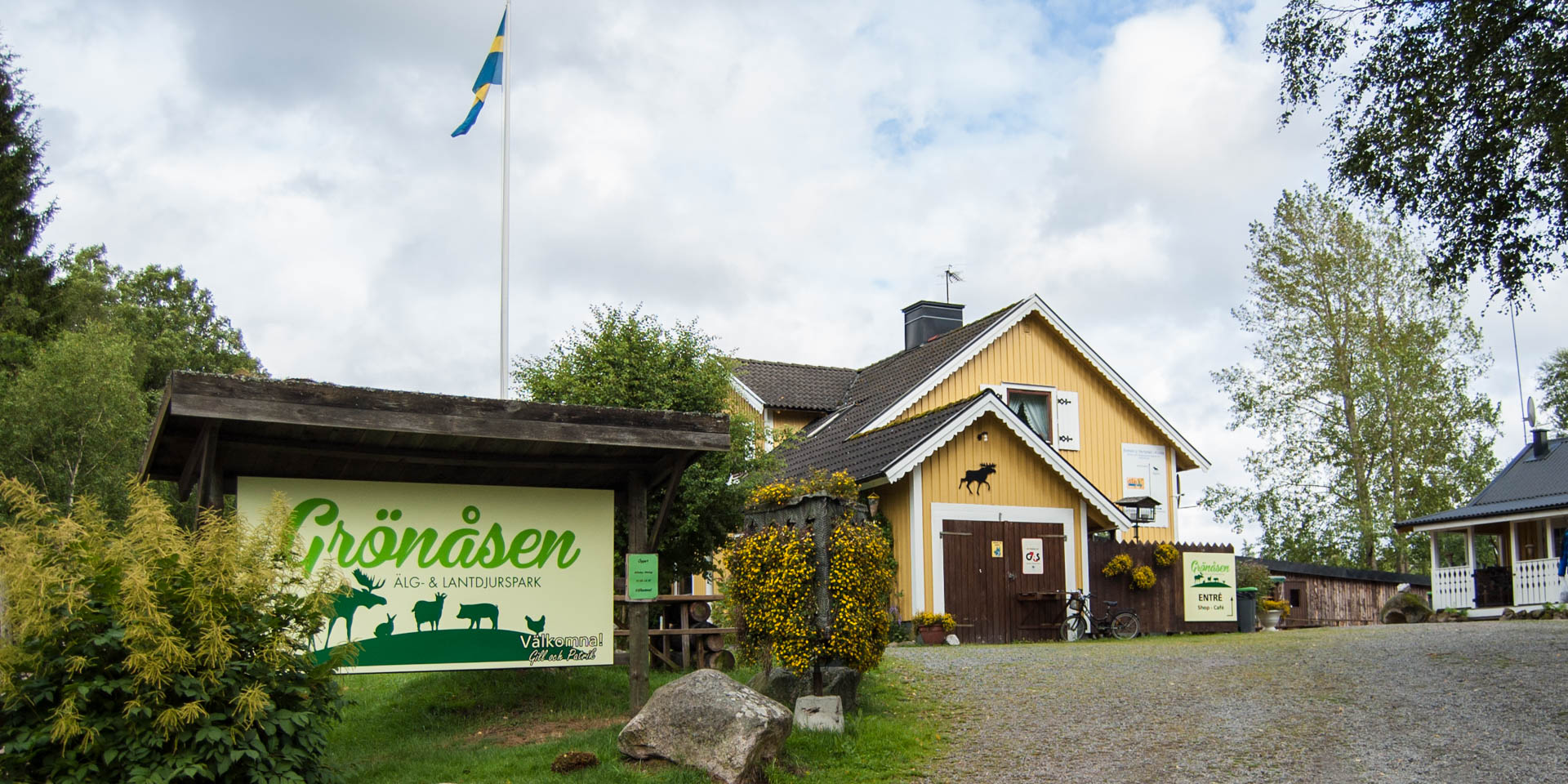 Grönåsen Älg- & Lantdjurspark
Elk park near Kosta
Grönåsen Älg- & Lantdjurspark claims to be one of the largest elk parks in Sweden. It is located about 4 kilometers east of the town Kosta, where also the world-famous glassworks Kosta Glasbruk can be found.
The animals of the park live in a fenced wooded area, surrounded by a 1,300-meter-long trail. With a size of about 10 hectares, the enclosure provides sufficient retreat possibilities for the elks, but is not too large, so visitors get a chance to see the king of the forest frequently.
Along the path are a few benches and at several spots, where the elks usual are, you can find large observation platforms. With a little luck you can even observe elks bathing in the pond.
The other animals in the park are African pygmy goats, a few horses, a flock of chickens and some pigs. The chickens are representatives of a old Swedish landrace and the pigs are a hybrid of mini-pig and Vietnamese pot-bellied pig.
In front of the park is a well-stocked shop, a large barbecue hut and a small museum. The shop has a size of about 200 square meters and is the largest of its kind in Sweden, according to the owner. It is filled with all imaginable products related to elk or Småland. The palette ranges from elk antlers, clothing and decorative items to elk warning signs and a lot more. A small grocery section offers products from the region, such as honey and jams, as well as elk sausage and meat.
The grill in the large barbecue hut is permanently under fire during the opening hours of the park. There is the opportunity to relax with some coffee or a piece of cake from the shop. You can also grill the elk sausages on the spot.
The small museum in the rear building shows several dioramas with various elk scenes. One scene shows the collision of an elk with a car and remind the visitors of paying special attention on Sweden's roads.
The paths in the park are covered with gravel and passable with wheelchairs and baby strollers - the shop is equipped with ramps. Dogs are not allowed in the park.
Similar destinations in the area