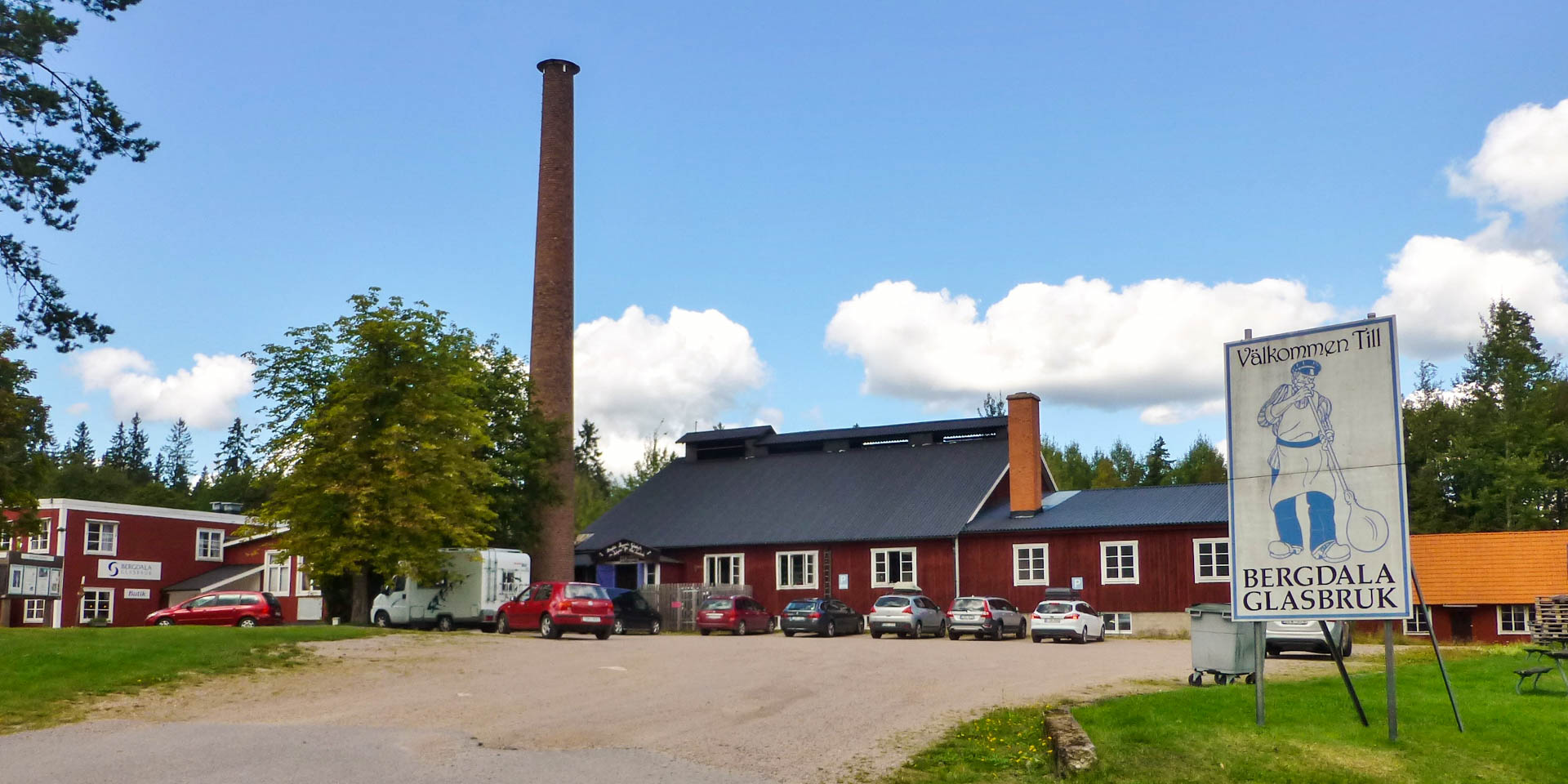 Bergdalahyttan
Glassworks in Bergdala
Bergdalahyttan, formerly known as Bergdala Glasbruk, is one of the smaller glassworks in the so-called Kingdom of Crystal in Småland. The glassworks, which was founded in 1889, is located in the middle of a dense forest in the small village Bergdala, about 14 kilometers north of Lessebo.
Bergdalahyttan surrounds the cozy flair of a typical old glassworks with red wooden houses. It is the only of the long-established and still active glassworks in the Kingdom of Crystal, which still produces in a wooden building.
The glassworks is best known for its utility glass with blue borders, which has developed into a classic in Sweden years ago. The bottles, bowls and plates of clear glass with the typical blue border are very popular and are still the main product of Bergdalahyttan.
The product range has been enlarged over the years and includes various types of utility glass in modern design as well as purely decorative glass objects. The Bergdalahyttan Art-Collection is dedicated to the production of artistic glass objects in limited numbers.
During the regular opening hours, you can watch the glass blowers inside the glassworks and see how a glowing viscous clump becomes a beautiful bowl, pot or the like. In the factory shop you can find the complete assortment of the glass articles manufactured in Bergdalahyttan.
By prior booking you can participate in a traditional Hyttsill. At this evening event, which is based on an old glass blower tradition, the meals are prepared in the cooling furnace and glass blowing demonstrations are the entertainment program.
Bergdalahyttan:

Opening hours
Open today: 10:00 – 16:00
---
Opening hours
1. January – 30. June
Monday – Saturday: 10:00 – 16:00
Sunday: 12:00 – 16:00
1. July – 31. August
Monday – Friday: 10:00 – 18:00
Saturday – Sunday: 10:00 – 17:00
1. September – 31. December
Monday – Saturday: 10:00 – 16:00
Sunday: 12:00 – 16:00
---
Last update: 07/2019 | Errors and omissions excepted.
Similar destinations in the area