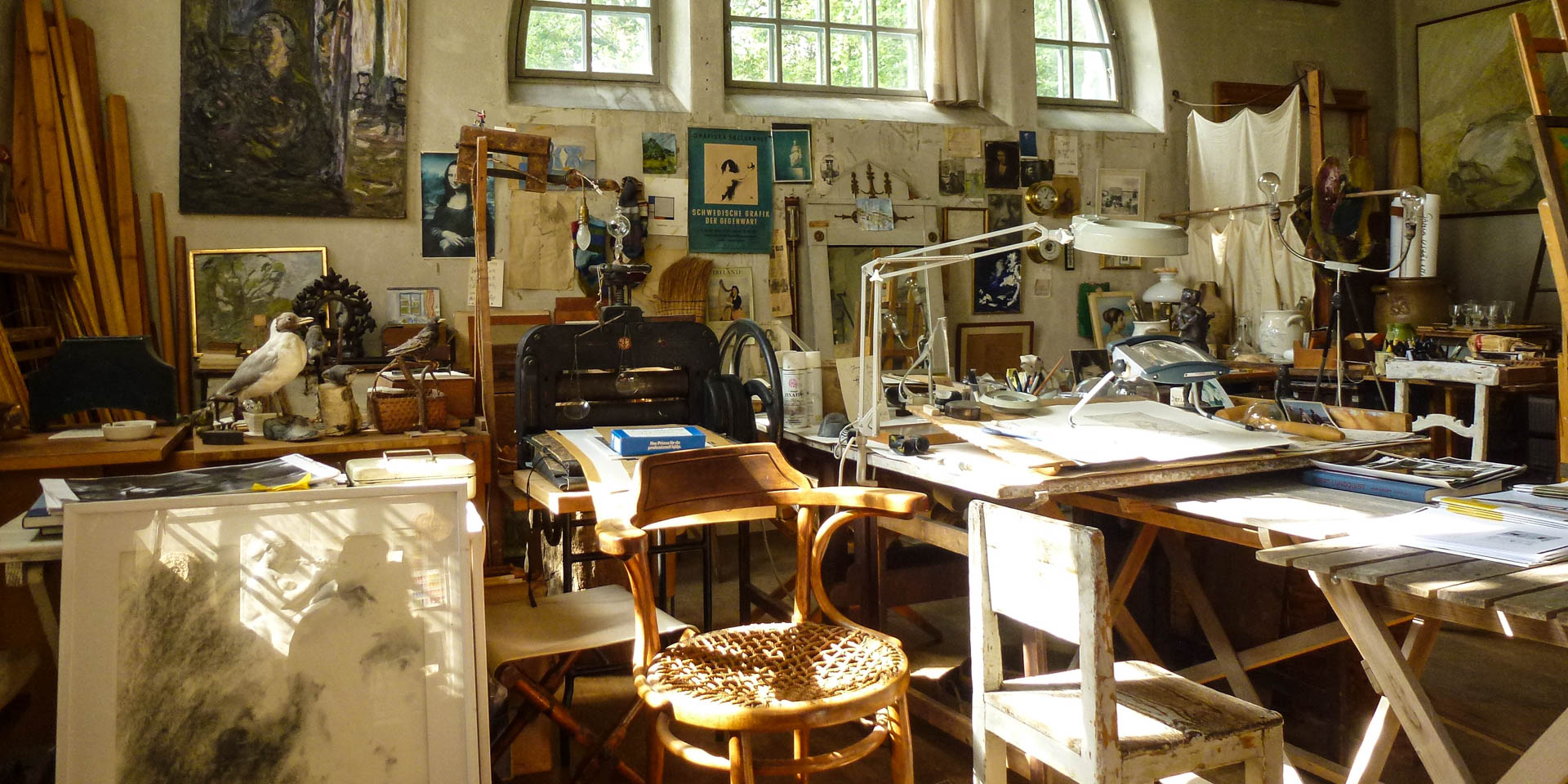 Evert Lundquists Ateljémuseum
Art museum in Drottningholm
Evert Lundquists Ateljémuseum is located in the former studio of the famous painter and graphic artist Evert Lundquist (1904 – 1994) at the southern edge of the castle park of Drottningholm Palace on the island of Lovön in Lake Mälaren.
The building in which Evert Lundquist's studio is located is not far from the Chinese Pavilion and used to be a powerhouse containing a steam engine and power generators for Drottningholm Palace.
From powerhouse to painter's studio
When the palace was connected to the public power supply in the 1950s, the small power station was superfluous and was converted into the studio for Evert Lundquist on the initiative of the palace architect Ivar Tengbom. The engine house is a typical example of industrial architecture influenced by Art Nouveau during the turn of the century and had large semicircular windows from the beginning, which made the room ideal for a painter's studio due to the abundant daylight.
In order to make the old engine house more comfortable, a ceiling for a loft was installed, a small kitchen and a dry toilet were added. In 1953, Evert Lundquist opened his studio, where he initially lived alone until his family moved into the neighbouring house in 1958. He worked in his studio until 1992, which was both the place of his artistic work and often a meeting place for celebrations with friends.
A visit to Evert Lundquists Ateljémuseum
The studio still looks exactly like Evert Lundquist left it. With the orderly chaos of painting utensils and tools lying around, collectibles, empty bottles, Lundquist's tobacco pipes and other everyday objects, the studio seems as if the artist would come back to the door at any moment.
Walls, easels, work tables and shelves are filled with numerous designs, reproductions, oil paintings, charcoal drawings and etchings in various sizes. Among the numerous works are oil paintings by his wife Ebba Reutercrona (1911 – 1998), who was also an artist, as well as watercolours by his son Manne and a sculpture and oil painting by his son Hymme, who disappeared without a trace in 1965.
The Evert Lundquists Ateljémuseum is only open on Sundays from the beginning of May to the end of August and can only be visited as part of a guided tour. Admission and tour are free and tickets are available at the ticket office of the Chinese Pavilion.
Similar destinations in the area