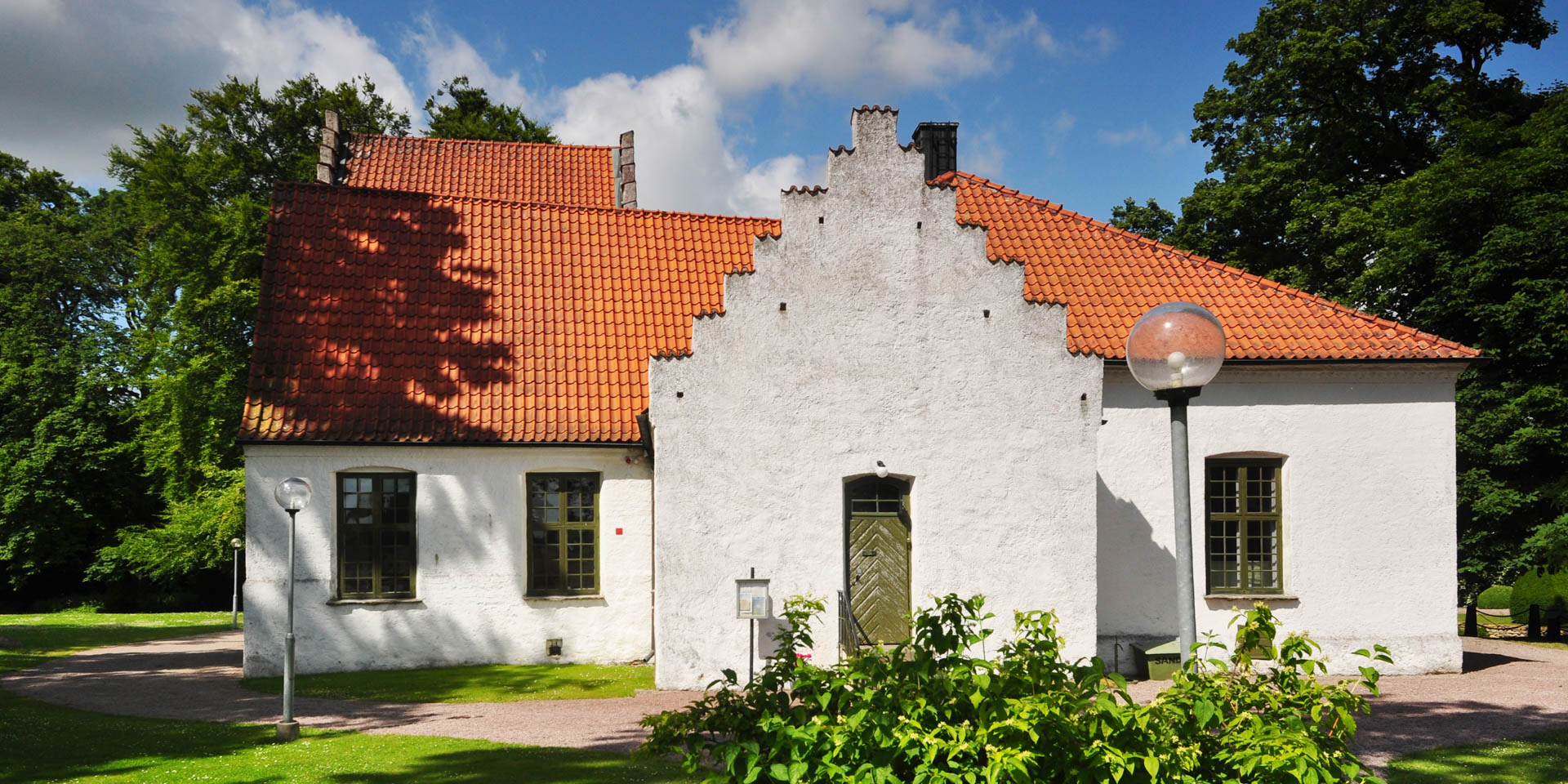 Trolle-Ljungby Kyrka
Medieval church in Trolle-Ljungby
The church Trolle-Ljungby Kyrka, whose oldest parts date back to the 13th century, is located in the immediate vicinity of the Renaissance castle Trolle-Ljunby Slott in the southeast of the municipality Kristianstads Kommun.
With its irregular ground plan and a steeple that is barely higher than the church roof, Trolle-Ljunby Kyrka differs at first glance from the usual image of a church. The unusual shape stems from four major expansions that were carried out in the church's early history.
The creation of Trolle-Ljungby Kyrka
When the Trolle-Ljungby Kyrka was built in the 13th century, it initially consisted only of a rectangular nave with a tower on the west side. Barely a hundred years later, the nave was fitted with a vaulted ceiling and the first of four extensions was built on the north-west side. Around 1450, the present church tower was added, followed by the extension on the south-east side in 1606 and finally the last of the extensions on the north-east side in 1695.
The present interior of the church is the result of an extensive remodelling in 1848, during which old walls of the nave and other interior walls were demolished, the old vaulted ceiling was torn down, new supporting columns for the roof structure were set and a new ceiling in shape of a tunnel vault was put in place. In short, the renovation destroyed a disproportionate amount of the original building structure inside the church. Accordingly, the expert opinion of the cathedral architect Theodor Wåhlin in 1922, after five years of architectural archaeological investigation, also came to a devastating conclusion and speaks of "reckless redesigning" or of "complete vandalism".
The interior of Trolle-Ljungby Kyrka
Independently of the modern changes, numerous furnishings from the church's history have survived the reconstructions until today. The oldest of these is the Romanesque-style baptismal font carved out of sandstone, which dates back to the 12th century and is thus older than the church itself. On the east wall of the church, not far from the pulpit, there is a large crucifix from the 13th century as well as eight figures carved from oak wood from the 15th century, which once belonged to a winged altar.
The altar is from 1639 and shows the Last Supper scene on the central altarpiece. Although the pulpit was rebuilt in 1848, it consists largely of the parts of the original 17th century pulpit. Its sides are decorated with pictures of the four evangelists. The age of the associated canopy is unknown - it was found in the attic and put up in 1928. The two stands are decorated with biblical motifs in 21 paintings, and various paintings and elaborately designed epitaphs hang on the walls of the church.
Similar destinations in the area