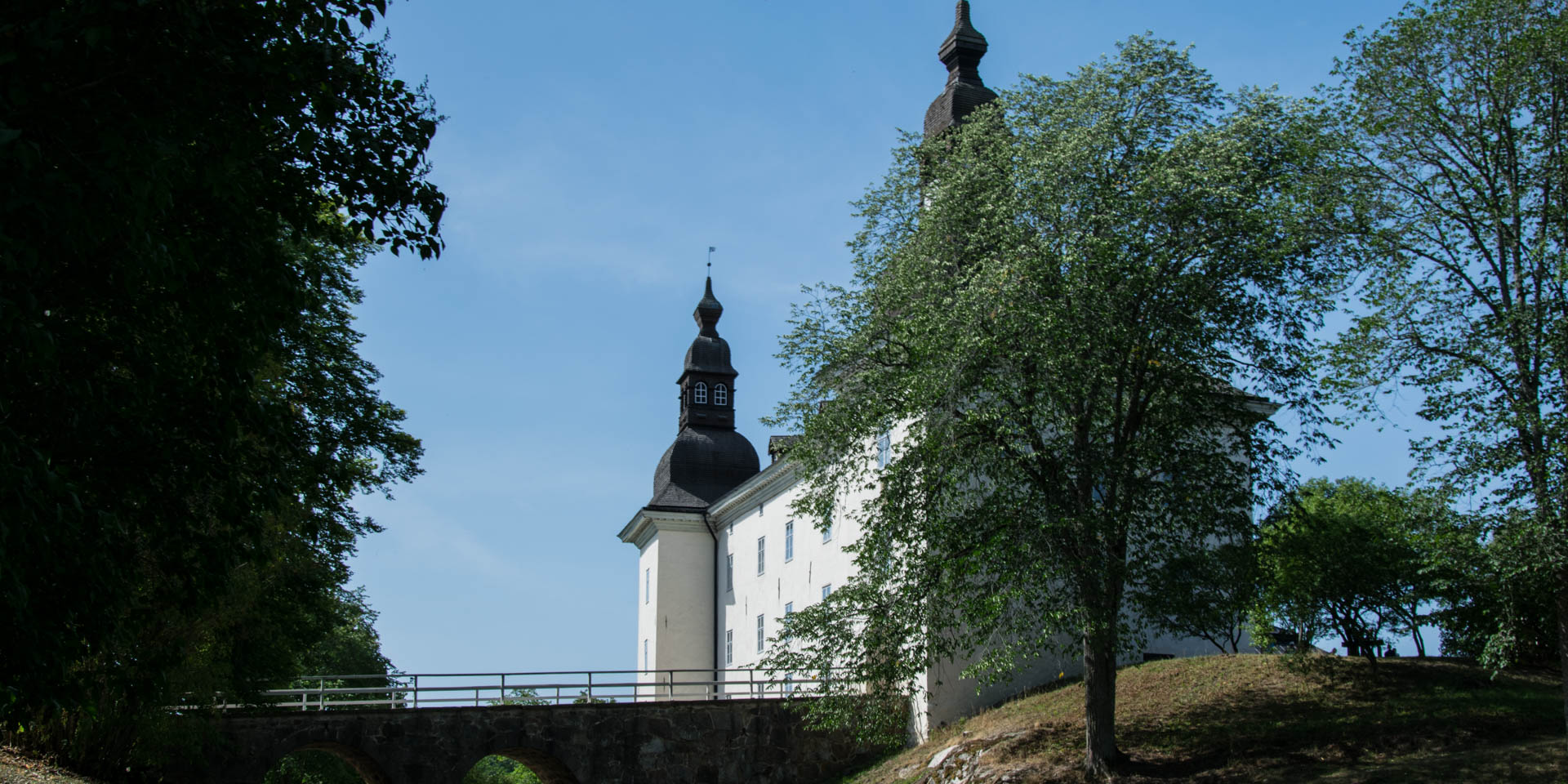 Ekenäs Slott
Renaissance castle near Ringstorp
Ekenäs Slott is one of the best preserved Renaissance castles in Sweden. It is located about 25 kilometres east of Linköping in the middle of the southeast Swedish province Östergötlands Län.
To the west of the small village Ringstorp, in the middle of a scenic mosaic of fields, meadows and small woods, Ekenäs Slott, dating from the middle of the 17th century, is enthroned on a rocky cliff on the former northern shore of the partially drained lake Teden.
The castle, in brilliant white, consists of a three-storey, elongated main building with a high steep roof and three square towers with beautiful Baroque tower domes. One of each of the towers stands at the two ends of the main wing, while the third tower stands centrally on the long side facing the courtyard and serves as a staircase tower. At the other end of the courtyard there are square side wings to the left and right.
On the east side, where once was a drawbridge, a high stone arch bridge leads across the moat, which has been drained since the lake was lowered. The entrance to the castle courtyard leads from the bridge through the large gate passage in the massive north tower.
Visit and experience Ekenäs Slott
Ekenäs Slott, declared a monument in 1974, is privately owned, almost completely furnished, but is not inhabited, but operated by the owner family as a private museum. The castle can only be visited as part of an one-hour guided tour.
In addition to the daily guided tours, there are special guided tours on some late afternoons until November that focus on the ghost stories and dark legends that entwine around the castle. From the end of April to the end of November, additional guided tours are also available for pre-booked visitors and groups.
Towards the end of May, Ekenäs Slott is the annual venue for great knight games, which are accompanied by a colourful supporting programme. The last annual event before the castle goes into hibernation is the Christmas Market, which takes place in mid-November. During these events there are extended opening hours and additional guided tours are offered.
There are no toilets in the castle. All toilets, including wheelchair-accessible toilets and a diaper-changing room, are located in a separate building on the parking lot. Due to the gravel surface and the incline in front of the bridge, the castle is very difficult to reach with wheelchairs. In this case you can drive up to the castle courtyard with your car after previous arrangement.
Dogs are not allowed inside the castle, but there are leash places at the two wing buildings in the castle courtyard.
Ekenäs Slott:

Opening hours
Opening hours
1. January – 31. December
Monday – Sunday: 8:00 – 20:00
---
Last update: 06/2022 | Errors and omissions excepted.
Similar destinations in the area