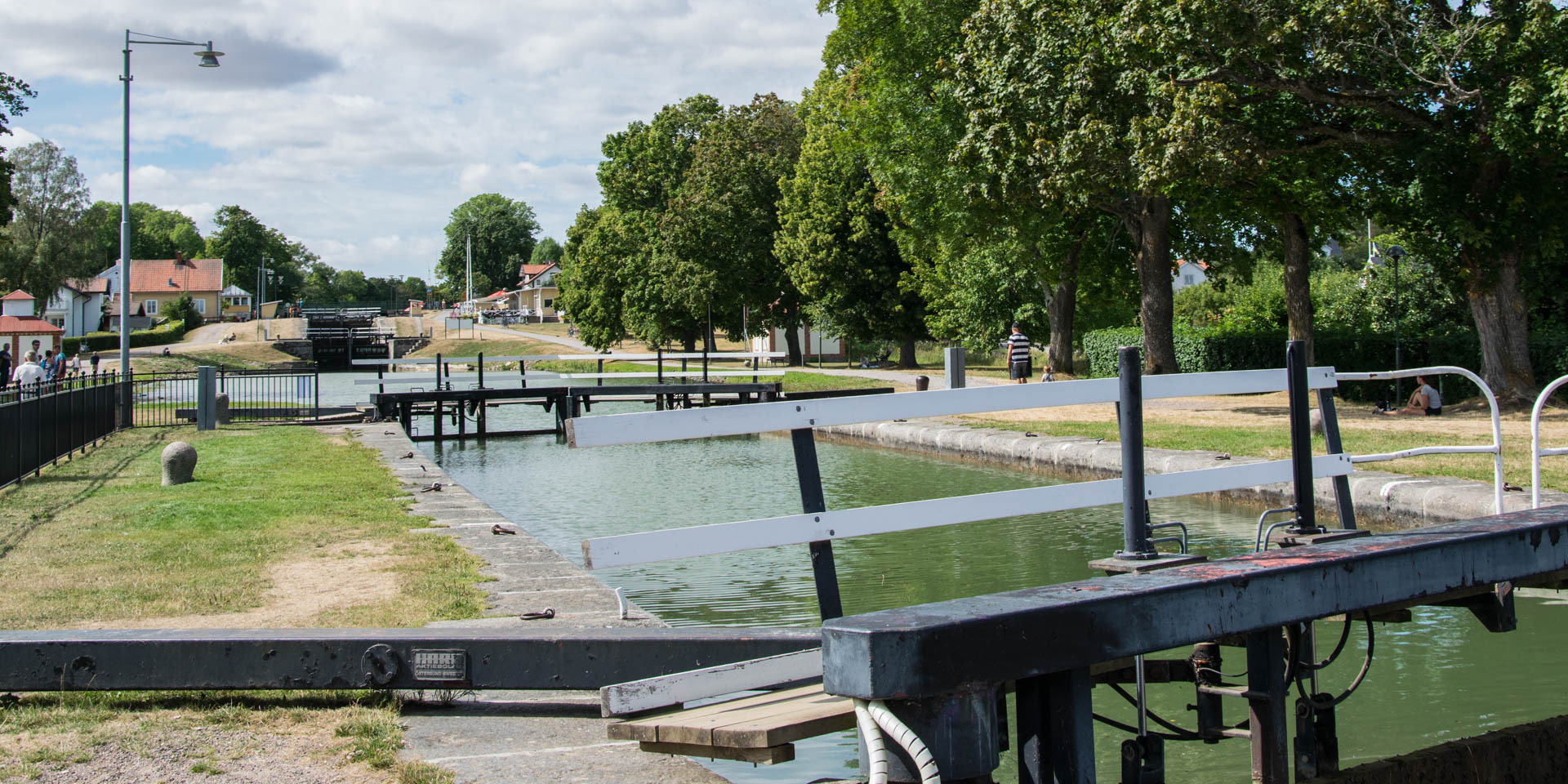 Popular destination
Bergs Slussar
Impressive staircase lock of the Göta Canal in Berg
Bergs Slussar is the largest staircase lock of the Göta Canal and at the same time one of the best known technical structures in Sweden. The impressive, almost one kilometre long lock is a well visited attraction in the small village of Berg at the lake Roxen, about 10 kilometres north of Linköping.
The deepest part of the staircase lock Bergs Slussar consisting of a total of eleven steps. It is located where the Göta Canal flows into the lake on the western shore of the Roxen. It begins shortly behind the mouth of the river with the imposing Carl Johans lock, which consists of a total of seven lock chambers connected in direct succession and overcomes a height difference of 18.9 metres.
On the hill side behind this staircase lock there is a very large harbour basin, which is used as a marina for Berg and as a waiting place for the boats and ships waiting for the lock, but primarily serves as a water reservoir for the seven-stage staircase lock.
At the opposite exit of the harbour basin there is Oscars lock, a double lock with which 4.8 metres in height can be overcome. After another, much smaller harbour basin, the Karl Ludvig Eugen lock follows last, another double lock with which the final 4.8 metres of height difference can be overcome.
A snack bar as well as a restaurant with a café and a beautifully designed adventure golf course are located directly at the locks. The large car park with numerous parking spaces for mobile homes proves that Bergs Slussar is a very popular supra-regional tourist destination. In the immediate vicinity of the locks there is also the beautiful beach Bergsbaden and the ruin of Vreta Kloster, Sweden's oldest monastery.
Similar destinations in the area