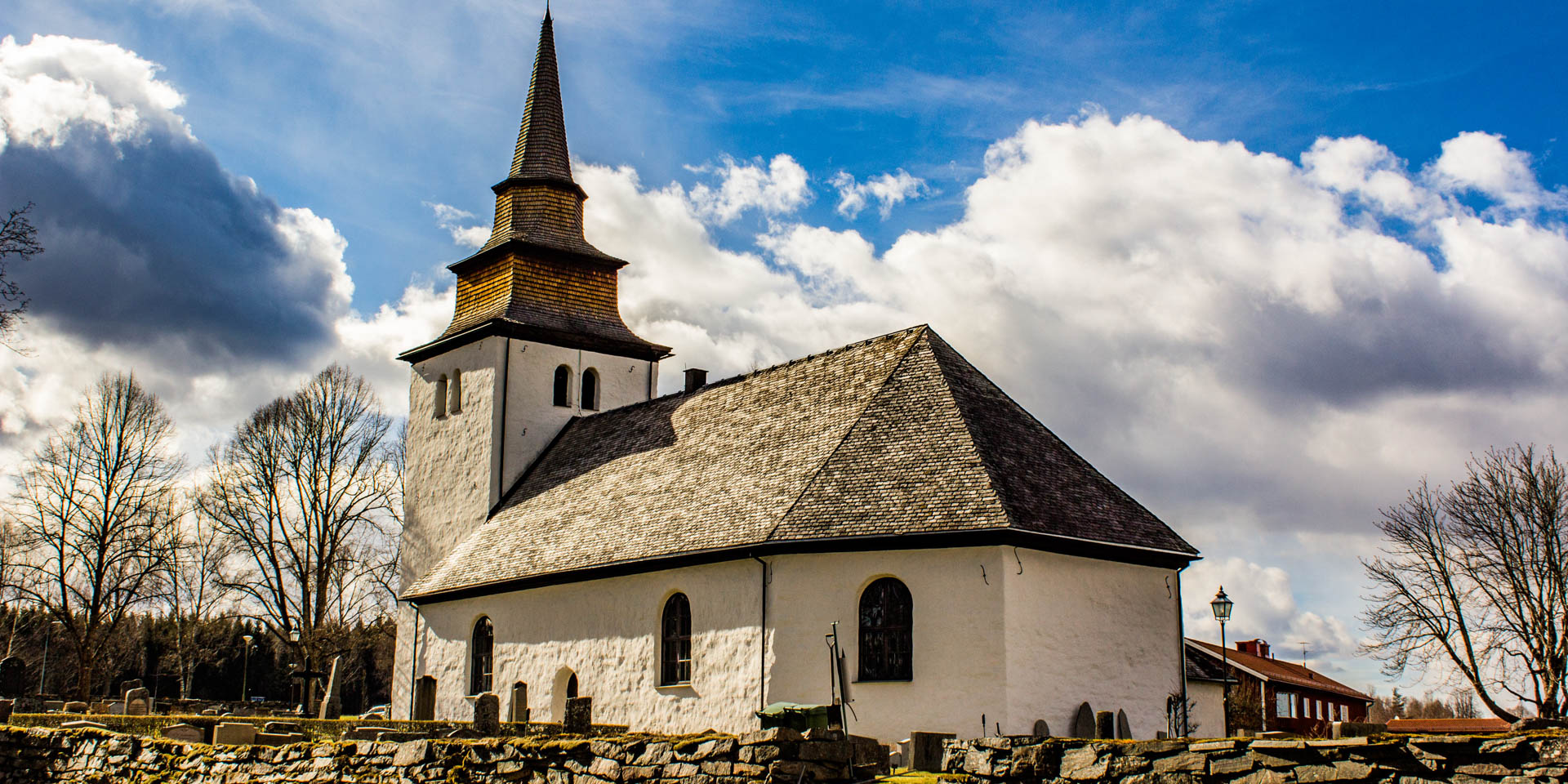 Älgå Kyrka
Baroque church in Älgå
One of the best-preserved baroque churches in Värmland is Älgå Kyrka in the southern half of the municipality of Arvika Kommun. It is located in the hamlet of Älgå on the road from Sulvik to Glava on the western shore of Lake Glafsfjorden.
Älgå Kyrka was consecrated in 1726 after two years of construction, replacing an old wooden church that had become too small due to the growing population. The church, made of white plastered natural stone masonry, consists of a rectangular nave with a chancel enclosed on three sides on the east side and a steeple with an entrance hall in front of the west gable wall.
The gable roof of the nave is covered with slate tiles and the inner ceiling of the church hall consists of a barrel vault clad with wooden panels. The three-tiered spire of the church tower is clad with tarred wooden shingles.
The church does not stand on grown rocks but on unstable clay soil. In order to stabilise the subsoil, the ground was covered with a closed layer of massive tree trunks before the church was built. In the course of time, however, the trunks sank into the subsoil, so that cracks appeared in the walls and in the meantime a difference in height of half a metre has arisen between the western and eastern end of the church.
After the church was built, only minor alterations took place and renovations in the 19th and 20th centuries also changed the exterior and interior appearance only slightly, so that the original appearance of the church has essentially been preserved to this day.
The inventory of Älgå Kyrka spans a time horizon of around 500 years. The oldest object is the soapstone baptismal font dating from the 13th century, followed by a triumphant crucifix and a statue of the Madonna from the 14th century and a former altarpiece from 1643. The current altarpiece and pulpit with canopy were created in the mid-18th century as representatives of late Baroque church art.
Similar destinations in the area