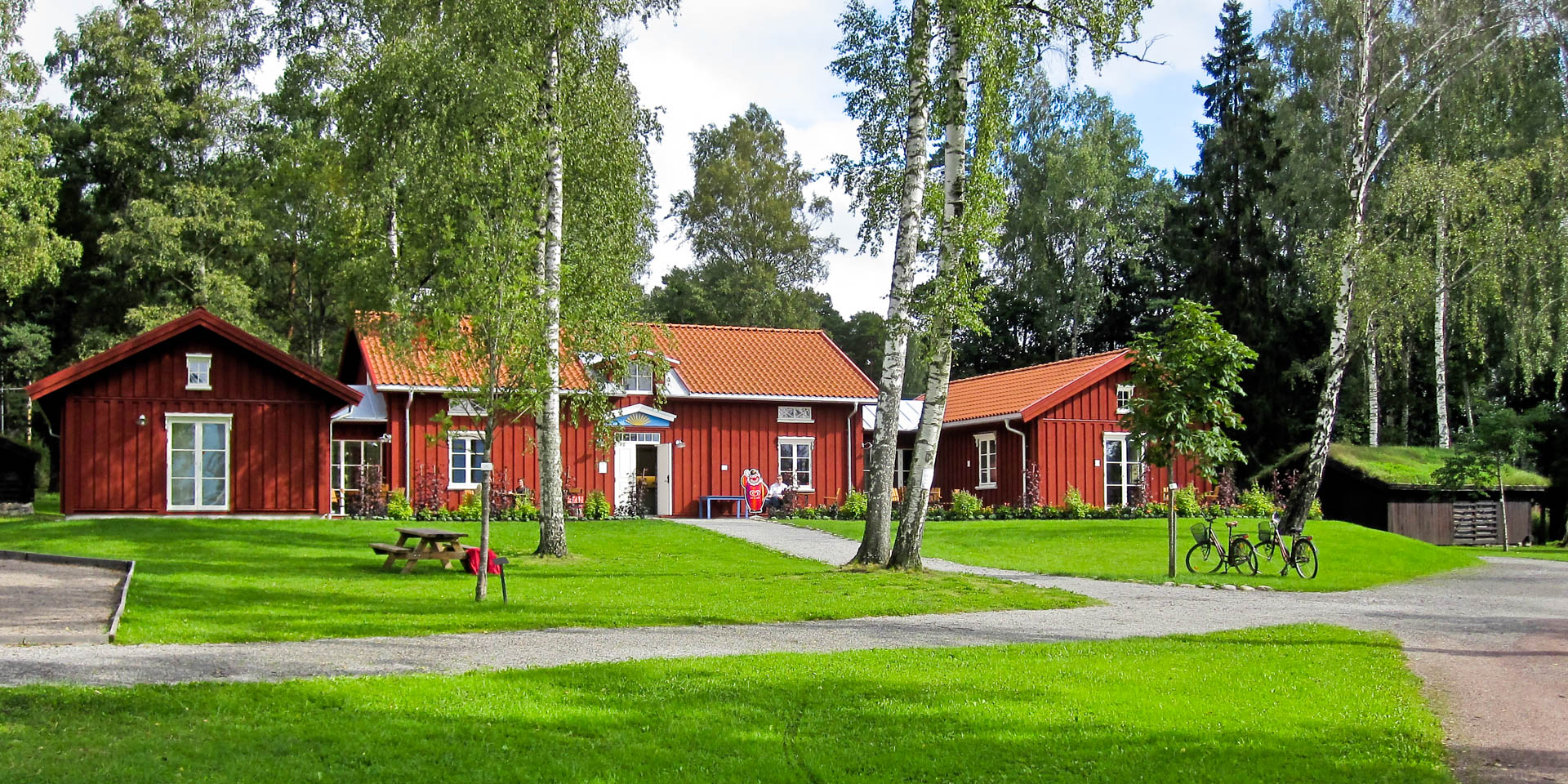 Såguddens Friluftsmuseum
Open-air museum in Arvika
Såguddens Friluftsmuseum is a popular open-air museum on the southern edge of the city of Arvika in Värmland, on the shores of the lake Kyrkviken.
The open-air museum Sågudden, like many others of its kind, was inspired by Skansen and today presents around 25 buildings from various places in western Värmland. The historical buildings were dismantled at their original sites and faithfully rebuilt at Sågudden, a small headland (Swedish: udden) that was previously home to a sawmill (Swedish: sågverk) owned by the English naval officer Alan Hopwood Grey (1843 – 1919).
The buildings in Såguddens Friluftsmuseum
In 1904, Anders Gustaf Hedenskog (1873 - 1941) founded the association Västra Värmlands Fornminnesförening. Together with Elis Eriksson (1856 - 1936) he started collecting interesting historical objects. In 1913, they had convinced the city of Arvika to build a museum and so the first buildings were brought to Sågudden.
During opening hours, you can visit the interior of most of the buildings, which are furnished with historical furniture and household appliances. This gives you an insight into Swedish country life from the 17th to the 19th century. One of the oldest buildings is a so-called Loftbod from the 17th century, a two-storey warehouse that was common on farms in central Sweden. You will also find other similar buildings in Sågudden, such as a granary (Härbre) or a storehouse for food, the so-called Visthusbod.
But the purpose of the buildings on site was usually very different. From a windmill and water mill to a boathouse, a soldier's hut and a farmhouse, there is much to discover in the open-air museum. A new building erected in 2008 also houses a collection of objects from antiquity and the Middle Ages, and you can enjoy coffee and cake in a café.
Visiting Såguddens Friluftsmuseum
Although the museum buildings are only open at certain times in summer, you can visit the open-air museum all year round. There is also a playground and herb garden on the grounds. And because Sågudden is so close to the city centre, you can combine your visit with a walk through the city park and the old town of Arvika.
Såguddens Friluftsmuseum:

Opening hours
Opening hours
14. June – 14. August
Monday – Saturday: 11:00 – 16:00
---
Last update: 07/2022 | Errors and omissions excepted.
Similar destinations in the area