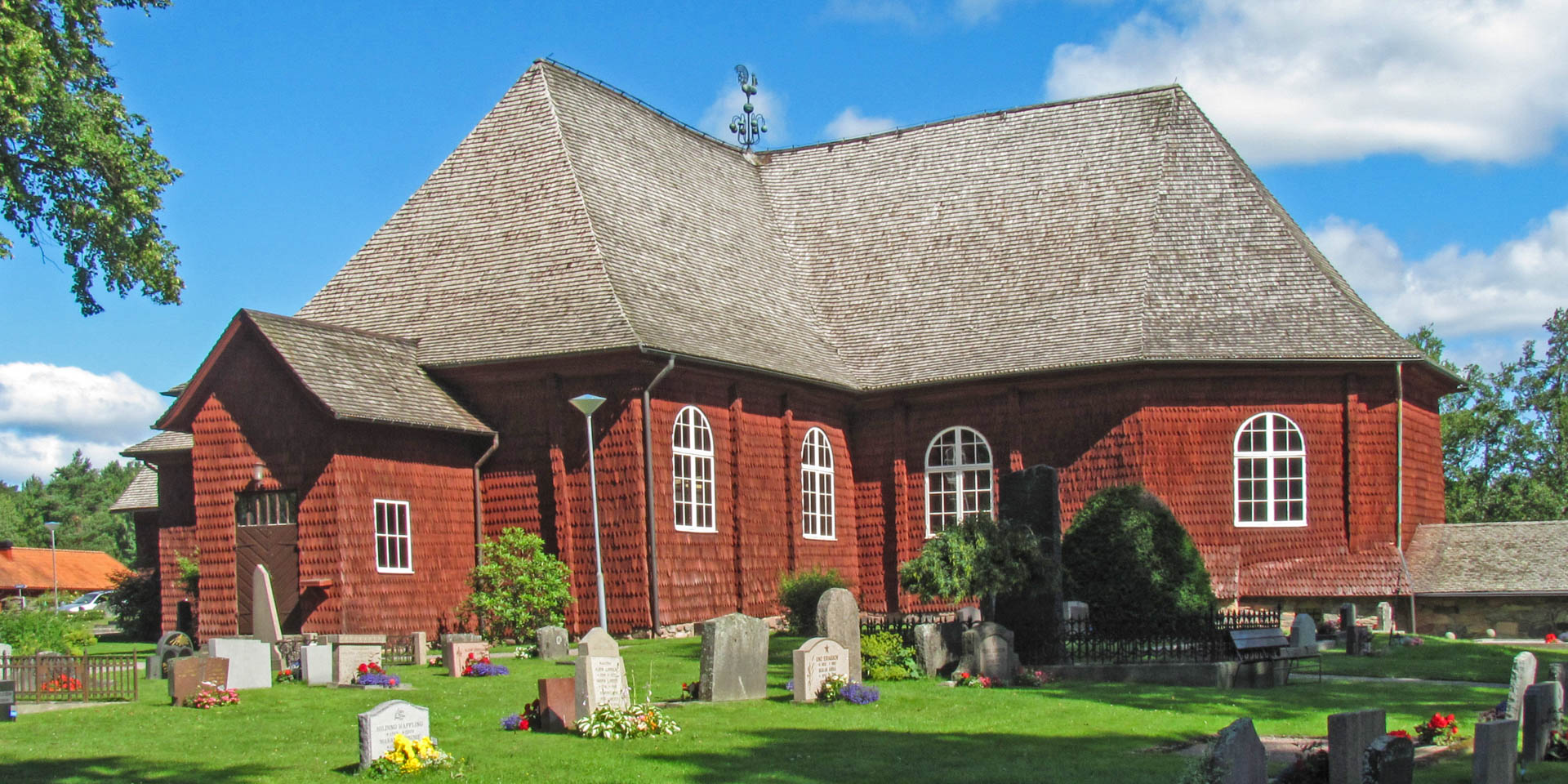 Nyeds Kyrka
Wooden church in Molkom
Nyeds Kyrka is located on the outskirts of Molkom between the two lakes Molkomssjön and Borssjön, on the shore of the latter, about 30 kilometres north of Karlstad. The wooden church was consecrated in 1706, but it was not the first church on this site.
The present Nyeds Kyrka had two predecessors, both of which burnt down due to a lightning strike. The first church on this site was probably built in the late 16th century or early 17th century. On July 10, 1643, it fell victim to the flames and only 59 years later, the following church met the same fate on the night between June 29 and 30, 1702.
In 1703, construction began on the present church, which was completed with the consecration on June 12, 1706. Nyeds Kyrka is a wooden cruciform church on a stone foundation. The exterior walls are covered with shingles painted red, the roof is tarred and also covered with wooden shingles. A few metres to the west of the church is a freestanding bell tower of the same design, which was also built in the 18th century.
The interior of Nyeds Kyrka
The church can seat up to 300 people and is still used as a baptistery today. The matching wooden baptismal font also dates from the 18th century. There are also two organs in the church. The larger organ is located on a gallery opposite the choir, the area with the altar. This so-called gallery organ was built in 1927 in Örebro.
Another organ in the choir, at first sight more inconspicuous and smaller, has a longer history. It was built in 1707 by Elias Wittig in Gothenburg as a private commission. In 1725 the organ came to Nyeds Kyrka and remained there until the first gallery organ was installed in 1881. At that time the choir organ was sold to the school in Molkom and in 1897 it was given to the Nordiska Museet in Stockholm. In 1959, the organ was restored and placed in its present location in Nyeds Kyrka.
When you visit the church, you will see that the entire interior, the ceilings, the floors and the pews are made of wood. This also applies to the altarpiece which dates from 1717 and the pulpit which was built in 1721.
Similar destinations in the area