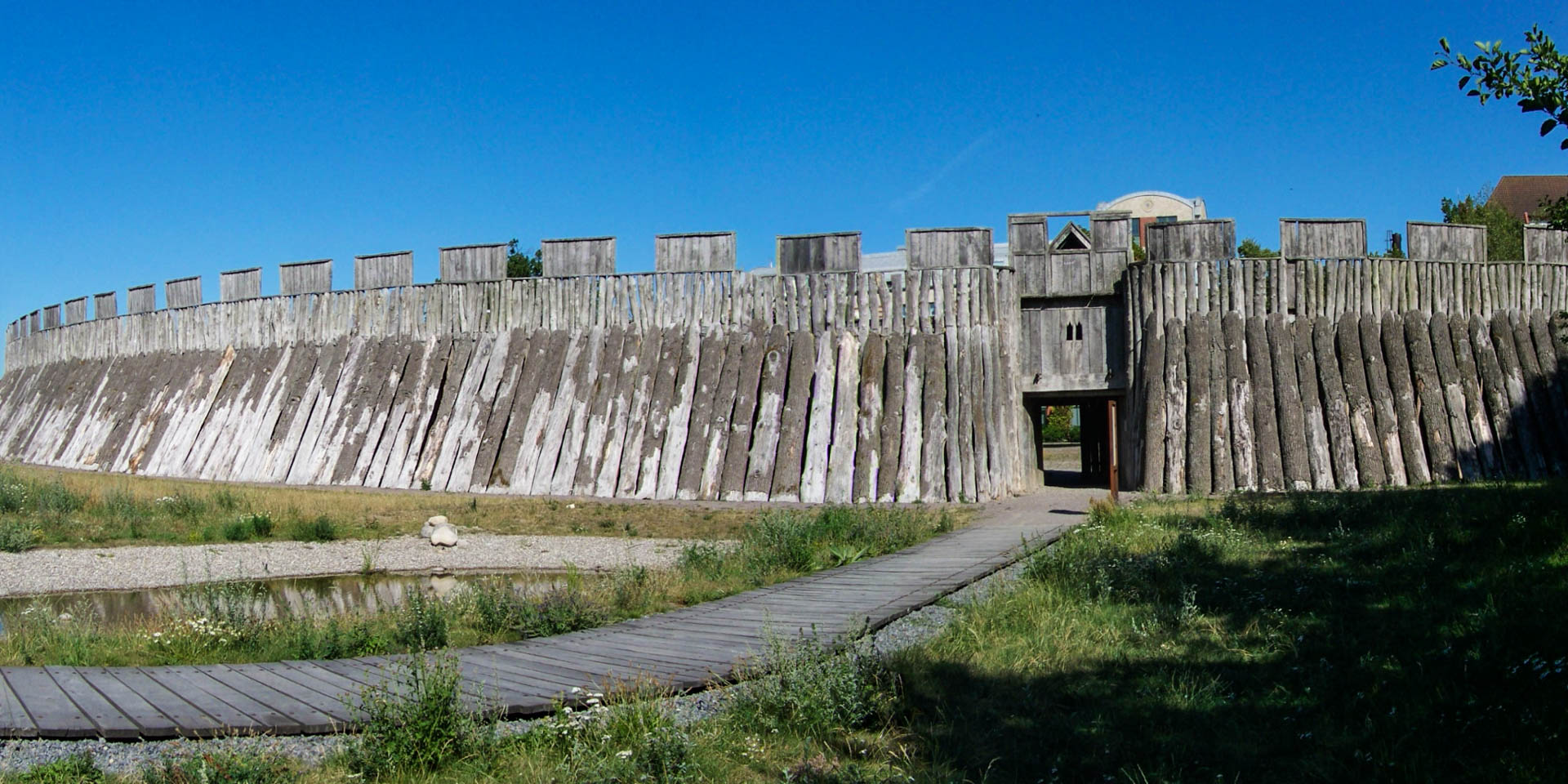 Trelleborgen
Viking fortress in Trelleborg
The Trelleborgen in Trelleborg is the only reconstruction of a ring castle from the Viking Age on Swedish soil. To the complex belongs also a reconstructed farm from the 14th century, a small Viking museum with a museum shop and a café.
During excavations at the edge of Trelleborg downtown, not far from the ferry terminal, the remains of the former Viking fortress and namesake of the city were found in 1988. In 1995, after the archaeological work was completed, the reconstruction of a part of the former 125 meters in diameter amounting castle to its original place began.
Since 2005, the six-meter-high earth wall covered with palisades, was made to a quarter of its original length together with the west gate. During the reconstruction of the exposed wood elements exclusively historical methods and simple tools like axes and knives were used. The grounds front of the rampart was designed also by the results of archaeological research and shows the landscape as it looked like about 1,000 years ago.
During the year, some events, such as Viking market, Viking games and -camps or Walpurgis- and midsummer celebration are held at the Trelleborgen.
History
Trelleborgen designates a certain type of castle from the Viking Age. It involves circular fortifications, which were surrounded by a high, palisade rampart and an external moat. The local castle was built around 980 on behalf of Sven Forkbeard, King of Denmark and Skåne. Because the raids of the Wends increased around the year 1000, the castle was abandoned and left to decay.
After the subjugation of the Wends the area was repopulated again in the 13th century and the city of Trelleborg was founded. It is believed that at this time the ruins of the old Viking fortress were still present and the naming of the city referred to the Trelleborgen.
During the Middle Ages the earth walls was demolished and the material was used to drain the surrounding wetlands. The old moats of the castle served as a garbage dump at that time. In course of time the former castle area has been overbuilt with houses.
During the archaeological excavations between 1988 and 1995 only parts of the former castle grounds could be examined. Large parts of the castle are now covered inaccessible by houses and streets.
Similar destinations in the area