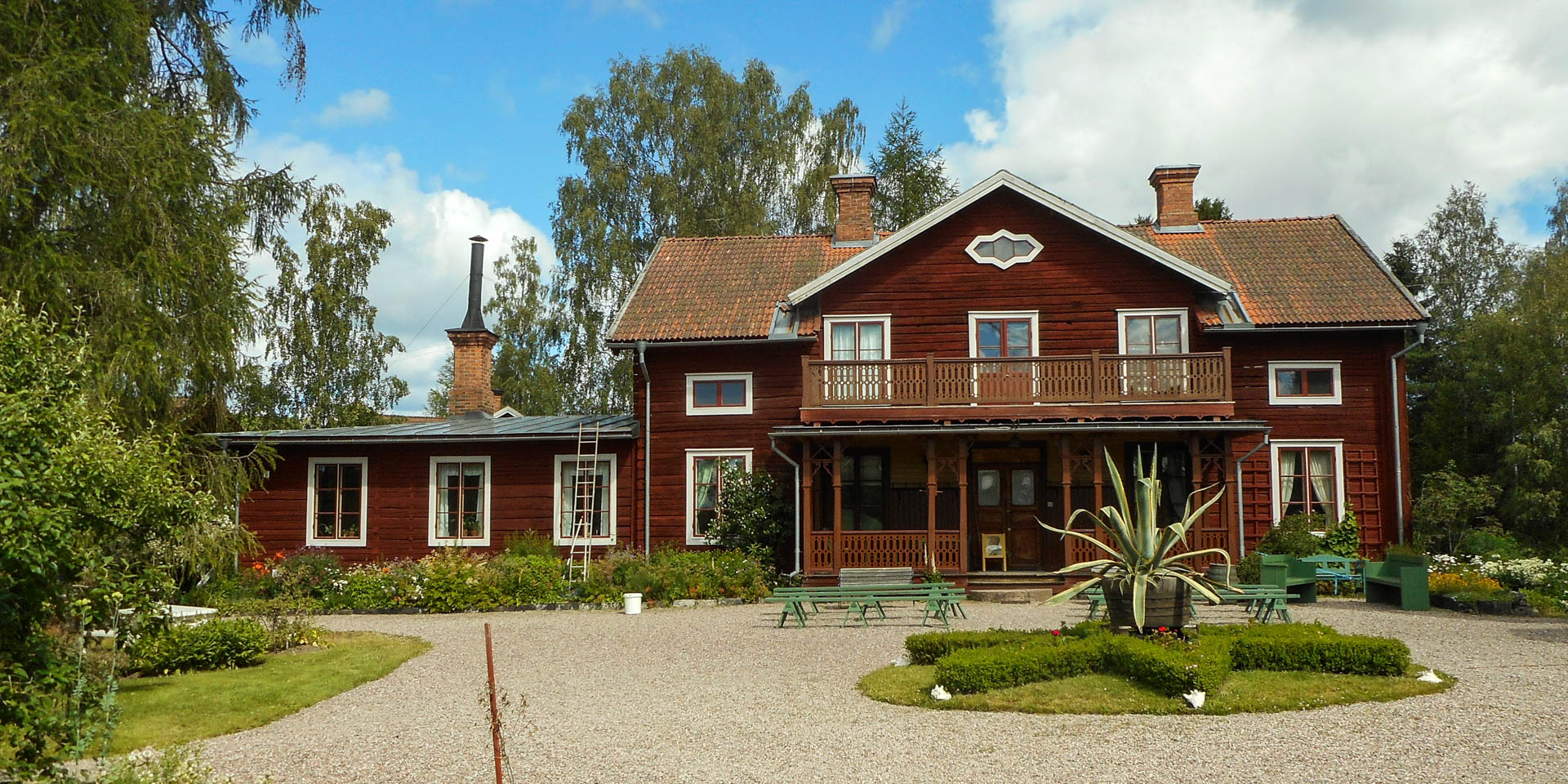 Stora Hyttnäs
Historic estate in Sundborn
Stora Hyttnäs is one of the oldest places of residence in the village of Sundborn and has a long history. The property consists of a large residential house and an extensive garden, both in the same condition as towards the end of the 19th century.
The estate Stora Hyttnäs is situated directly by the river Sundbornsån in the south of the village, about 13 kilometres northeast of the town of Falun in the municipality of Falu Kommun. Right next door is the estate Lilla Hyttnäs, also known as Carl Larsson-Gården, the former residence of the famous artist couple Carl and Karin Larsson.
The history of Stora Hyttnäs
As the name suggests, stora means large, Stora Hyttnäs is the larger of the two properties. It was mentioned as early as the 14th century and has been inhabited by all kinds of local personalities throughout its history. Among them were mayors of Sundborn as well as some mine owners, which is why the property is often referred to as a miner's estate.
In 1850, the owner at the time, Lars Gustaf Rathsman, had the present buildings erected and left his mark on the large garden as an amateur botanist. The last owner was Bengt Linderdahl, who bequeathed Stora Hyttnäs to the foundation Linderdahlska Stiftelsen after his death in 1983. Today, the foundation runs the museum and maintains the estate.
Discovering Stora Hyttnäs
The large house on the grounds is now a museum. The furnishings are as they were at the end of the 19th century, when Henrika and Pontus Linderdahl lived in the house, and present an authentic upper-class home of the time. The two were neighbours of Karin and Carl Larsson, who lived in Lilla Hyttnäs at the same time with their flock of children and became good friends over time. To see the inside of the house, you must join one of the guided tours that take place daily from mid-June to mid-August. For more information, visit the official website.
The garden, on the other hand, is open to visitors at all times and you can enter it free of charge - the best thing is to make a small donation at the entrance. In the garden you will find about 80 different species of trees and shrubs, including one of Sweden's oldest apple trees. Its name is Gubbäppelträdet, which means "old man's apple tree", because the flesh of its apples is so tender and crumbly that even an old man without teeth can probably eat the fruit without any problems. The tree itself is estimated to be around 350 years old. Henrika Linderdahl created the rest of the garden herself as an ornamental garden based on German examples.
In summer, you will also find a garden café where you can enjoy a cup of coffee and a piece of cake.
Similar destinations in the area