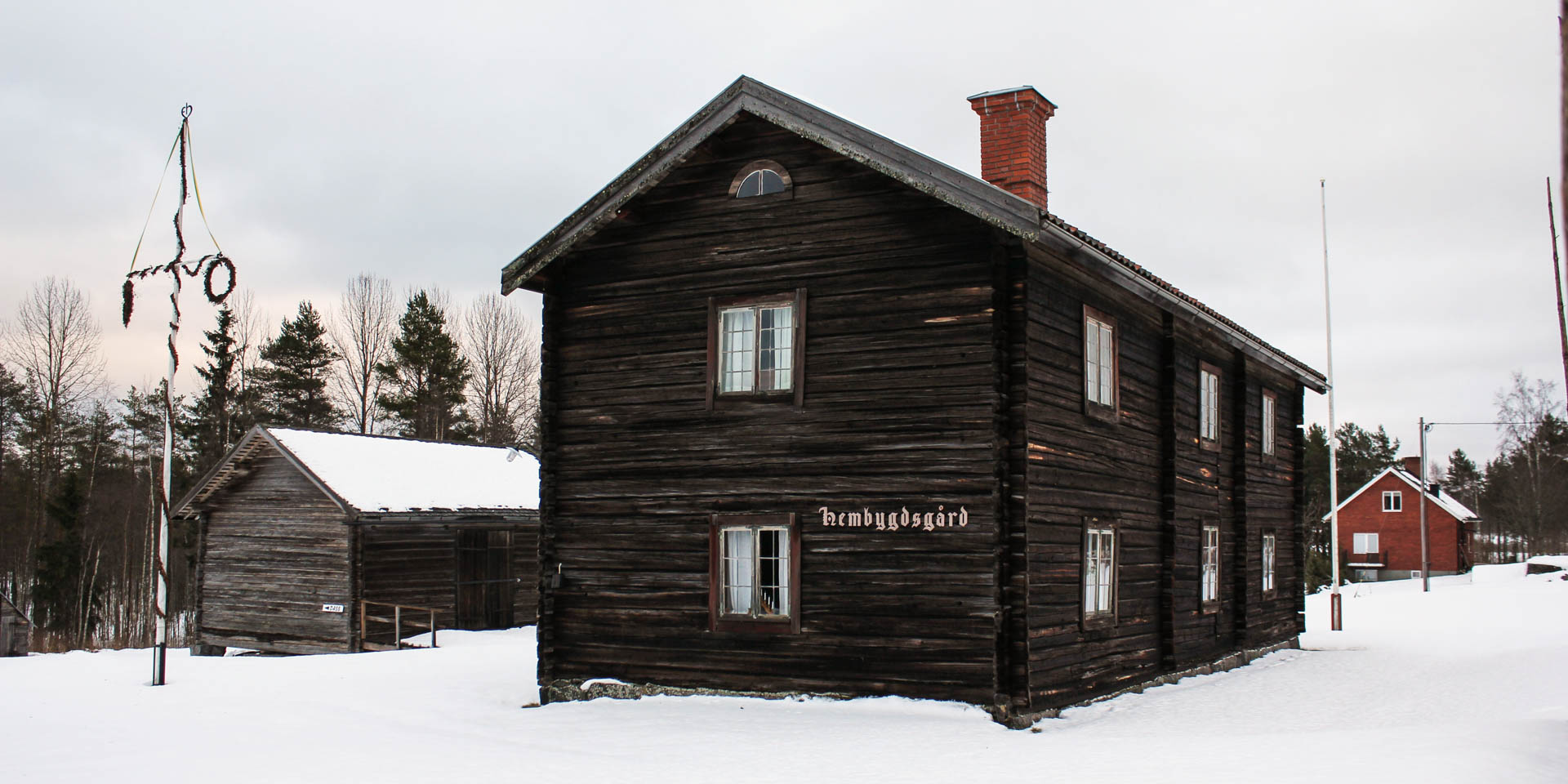 Görasgården
Homestead in Enviken
The homestead Görasgården consists of half a dozen historic buildings and is located approximately in the geographical centre of the municipality of Falu Kommun in the village of Enviken, about 30 kilometres north of Falun.
The small open-air museum, also known as Envikens Hembygdsgård, is named Göråsgården after its largest and oldest building, the main house of the former hereditary farm Görås near Enviken. The two-storey house dates from the 1750s and was still built in the old log style. The exterior façade is also not painted in the typical Swedish red, but still treated with wood tar.
On its way to the museum, the house first took a diversion, as it was bought by antiques dealer Carl Lennerthson in 1928 and initially moved to Falun from its original location in 1930. At the time of purchase, only a few of the historical wall and ceiling paintings typical of Dalarna were still preserved in the house, the so-called Dalmålning. Over the years, however, Lennerthson expanded the paintings by buying up parts of the walls and ceilings with historical paintings from other buildings and having them installed in the house.
After Lennerthson's death in the 1950s, the building stood empty until the end of the 1970s, when it was bought by a regional company and donated to the Enviken Local History Society. In the early 1980s, Goråsgården was then moved to the museum, where it now presents itself as a regionally and period-typically furnished house from the mid-18th century.
Other buildings in Görasgården
Right next to the large house is the so-called Forsströms Stuga. Although much smaller, this building was also once the residential building of a farm. The Forsströms Stuga dates from the middle of the 18th century and has hardly been changed since it was built. The stuga consists of a small entrance hall, a living room and a kitchen and is furnished in 1920s style.
Just behind the large house is the so-called Matsols Lada, a historic barn from the farm Matsols Gård in Enviken. The other buildings in the background include two historic granaries, as they were common in northern Sweden. In addition, there is a so-called Tängerkoja, a historical forest worker's hut as they were common until the beginning of the 20th century. The special thing about these huts was that they consisted of easily assembled and disassembled wall and roof elements. The elements were easy to transport and so the huts could easily be moved from logging site to logging site.
Furthermore, Gorasgåden houses a forest museum that describes the history of forestry in the region. On display are models, tools and photos that offer an insight into forestry work from the mid-19th century to the beginning of mechanisation in the 1960s.
Similar destinations in the area