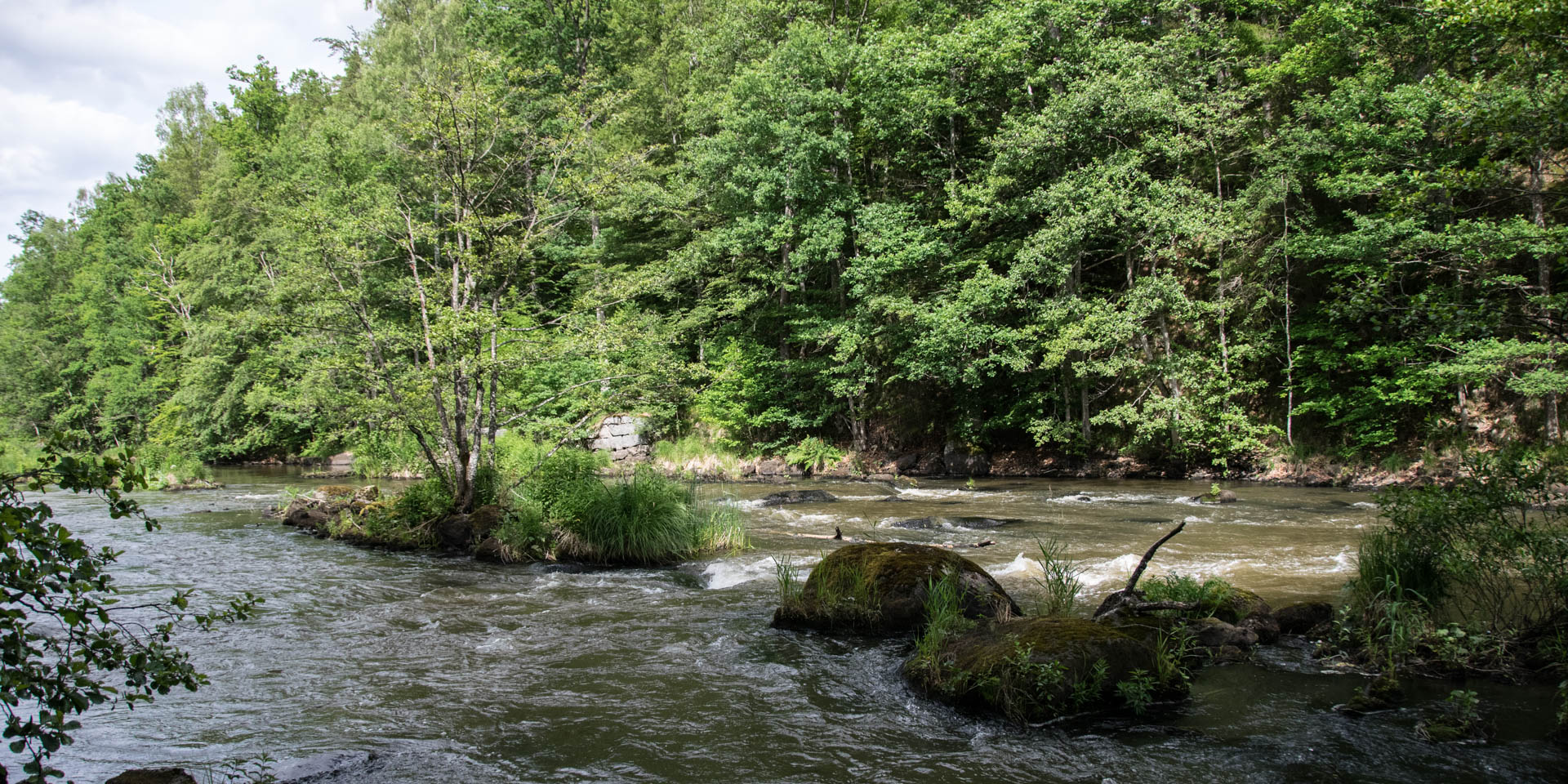 Käringahejans Naturreservat
Nature reserve on the river Mörrumsån near Kyrkhult
The nature reserve Käringahejans Naturreservat is located on the well-known salmon river Mörrumsån near Kyrkhult, about 18 kilometers northeast of Olofström.
The nature reserve covers an approximately 4.5-kilometer section of the Morrumsån and its shores between the villages of Hovmansbygd and Hemsjö. It preserves a wildly romantic piece of the river with sections up to 40 meters high, steep rocky banks and a jungle-like woodland.
The eastern shore is a bit flatter and the combined hiking and biking trail runs along the water on a former embankment with only a few gradients. The path on the west bank, however, is much harder to walk and characterized by constantly changing altitude differences.
The crossing possibilities of the river are about 3 kilometers apart and are located near the parking lots on the north and south side of the nature reserve. At some exposed spots are resting places along the way, offering a good view of the river and its rapids.
The salmon river Mörrumsån
The Mörrumsån is not only the most famous salmon river in Sweden, but is also one of the most species-rich running waters in the country, in which about half of all occurring freshwater fish species in Sweden were detected.
The river banks are in no way inferior to the biodiversity in the water. Due to the high humidity, the high proportion of very old trees and deadwood has developed a very large biodiversity in the dense forests, consisting of oaks, beech and pine trees.
There are more than 1,650 different species – including ferns, mosses, lichens and fungi, as well as many species of beetles. These are joined by waterfowl such as herons, goosander (Mergus merganser), goldeneyes (Bucephala clangula) and mallards (Anas platyrhynchos) and with a little luck, you will also spot otters (Lutra lutra).
On the numerous small islands in the river, which are regularly flooded at high tide, are miniature riperian forests mainly consisting of ashes and oaks. You can also find on some islands and directly on the shore a number of cultural and historical relics in the form of ruins of old water mills or fishing devices.
Similar destinations in the area