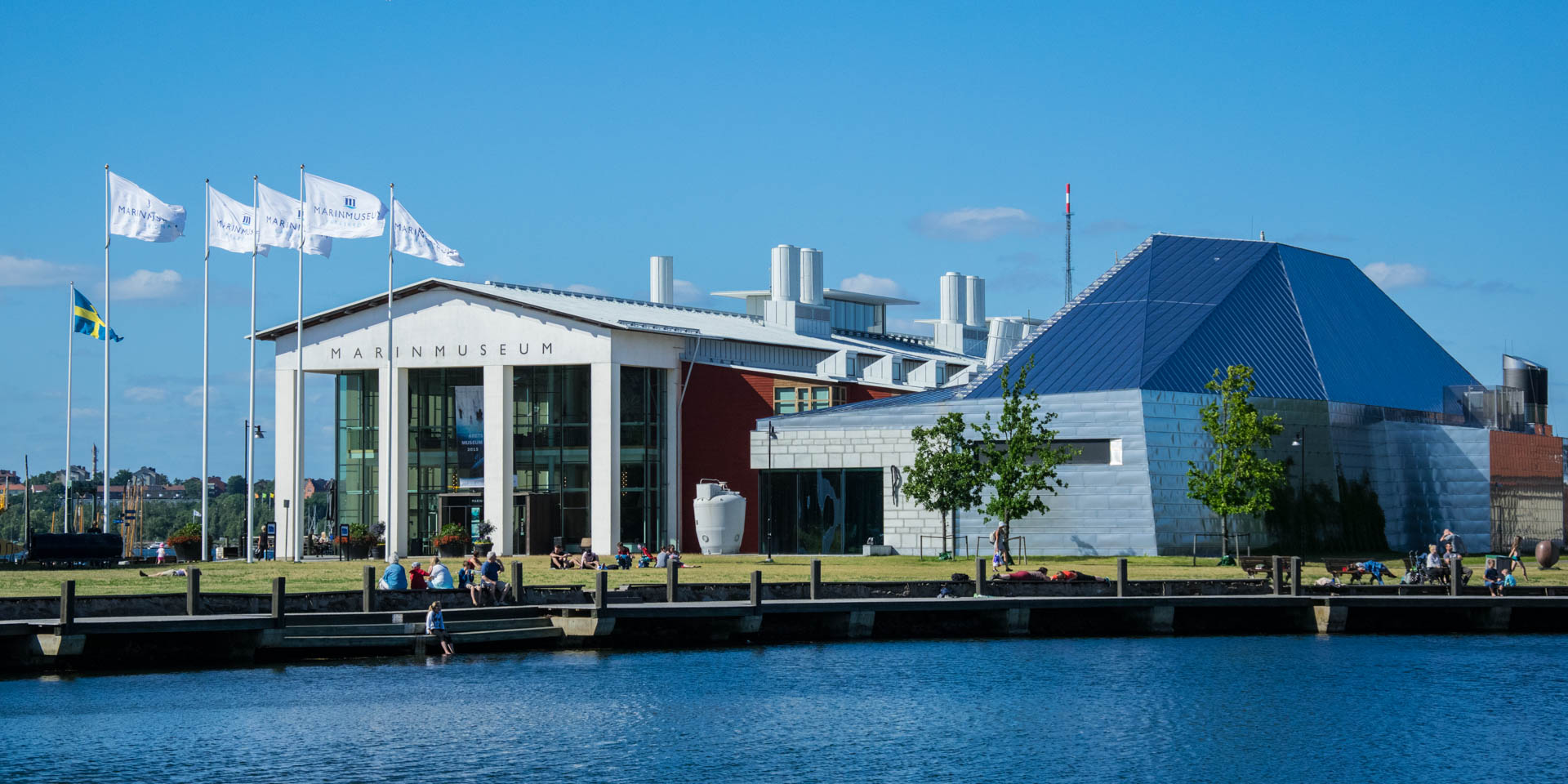 Marinmuseum
Naval museum in Karlskrona
Marinmuseum, the naval museum in Karlskrona is one of the oldest museums in Sweden. It has a huge number of exhibits and illustrates the centuries-old history of the Swedish Navy. The present museum building was built in 1997 and is located near the city center, on the historical soil of the island Stumholmen.
Marinmuseum is located on a pier, where several historical ships, like a minesweeper, a torpedo boat and the HMS Jarramas, Sweden's last fullrigger are moored.
In almost twenty different exhibitions, you get a deep insight into 500 years of history of the Swedish Navy. In many areas it is a hands-on museum where children can learn in a playful way.
The department Herravälde is dedicated to naval battles and the role of the Navy during the time when Sweden was a major power. In Galjonshallen you can admire the impressive figureheads of former sailboats. Tyghuset exhibits a large collection of historical weapons and on a recreated gun deck you can feel how you would have felt on a warship in the 18th century.
In the model chamber, the former base of the museum, you can see detailed models of historic ships. The number of models is very large, because the structure and properties of a ship has been tested on a model before construction. Find out more about the history of the shipbuilding industry in the department Skeppsbyggeri.
Another section is devoted to the history of diving and under the pier runs an underwater tunnel with a fascinating view of the underwater world and the wreckage of a ship from the 18th century. In 2014 the submarine hall opened and you can even go aboard a modern submarine. The Neptune, a modern boat which was placed in service in 1980 and taken out of active duty 18 years later. It belongs to the first generation of Swedish submarines, which were equipped with computers. You can also see the first submarine of the Swedish Navy, the Haijen from 1904.
All areas of the museum, with the exception of the museum ships at the pier, are accessible for wheelchairs, walkers and strollers.
Visiting this museum and 17 other stately museums in Sweden is free of charge since Februar 2016.
History
The foundation stone of the naval museum was the model chamber, founded in 1752 on the orders of King Adolf Fredrik. It was customary to make a model for testing purposes before construction of a new ship. In the model chamber all these ships and construction models were collected in order to preserved for future generations.
From 1953 to 1997, the naval museum was located in the former military barracks Skeppsgosse outside the naval harbor. It moved into the new building on Stumholmen in 1997.
Similar destinations in the area