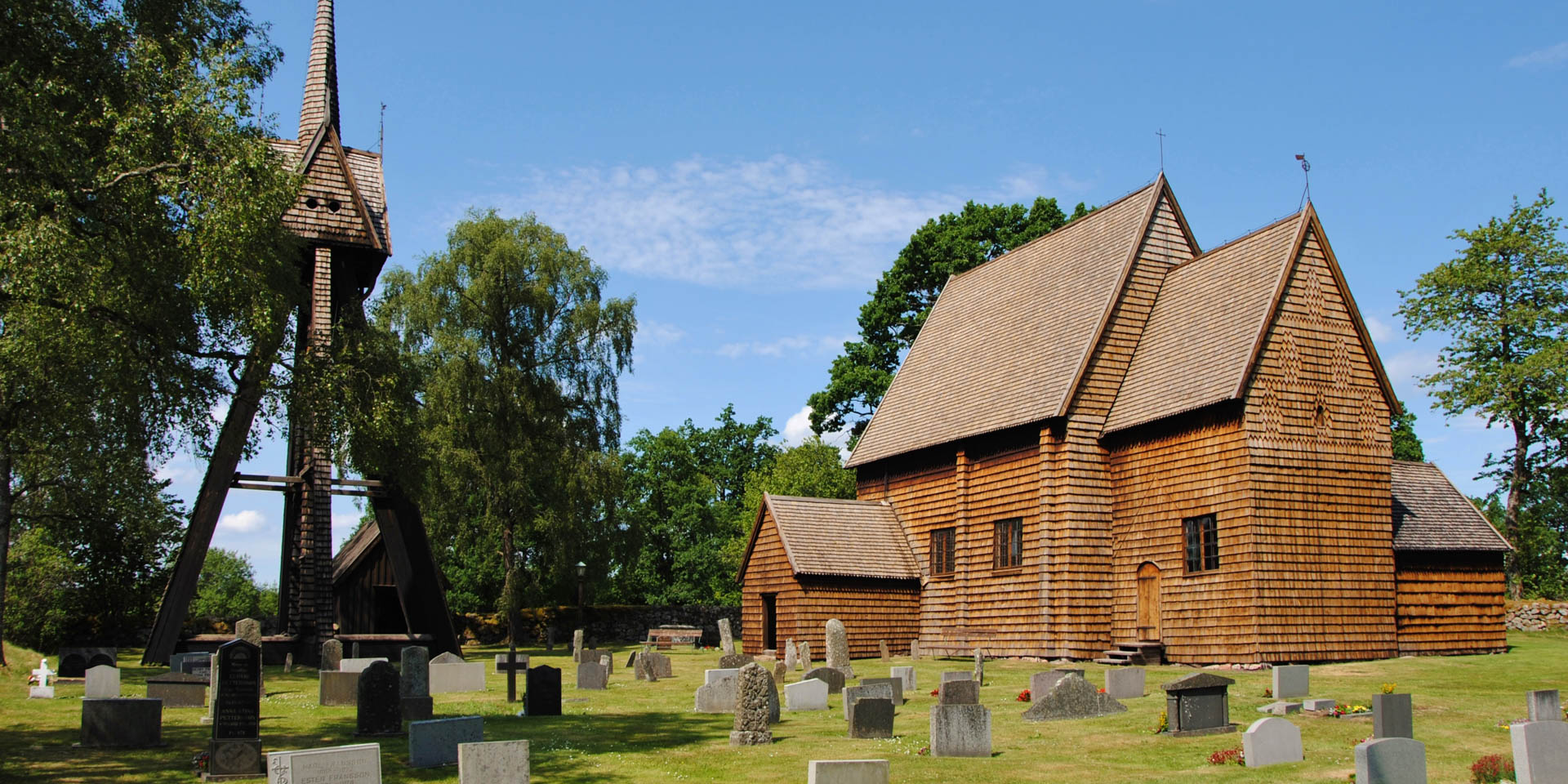 Insider tip
Granhults Kyrka
Sweden's oldest wooden church
Sweden's oldest fully preserved wooden church, the Granhults Kyrka which was built around 1220, is located about 10 kilometers north of Lenhovda.
Apart from the sacristy and the small vestibule, which were built in the 17th and 18th centuries, all other parts of the Granhults Kyrka, including the high and steep roof, date back to the early 13th century. Dendrochronological investigations date the old beams to the time around 1217.
The entire church is built in block construction, the outer walls and the roof are completely covered with wooden shingles. The window openings were originally small round arch windows, which were located very high in the side walls. Today's larger windows were installed in the 18th century.
All the walls and ceilings within the church, including the sacristy, are completely painted in bright colors with biblical motifs. The paintings in the nave, choir and in the vestibule were made in 1753 by the well-known church painter Johan Christian Zschotzscher, while the triumphal arch and the eastern choir wall still contain fragments of older medieval paintings.
Most parts of the interior, such as the pulpit and pews, date back to the 17th century. The oldest items in the church are a 15th-century portrait of St. Olav and a late-Gothic Madonna statue dating to around 1475.
The wooden bell tower next to the church dates back to the 18th century and replaced an older tower. The larger of the two bells was cast in the 14th century, the smaller dates from 1818.
Only due to the commitment of the parishioners the Granhults Kyrka still exists. When the church should be demolished in the 1830s as part of the renewal of the churches in the diocese Växjö, which had been promoted by Bishop Esaias Tegnér, the parish of Granhult successfully defended itself.
The church was decommissioned, but the parishioners prevented the demolition by achieving the bishop's permission to use the church as a granary at their own expense. With similar measures, in the province of Kronoberg further important medieval cultural monuments like the Dädesjö Gamla Kyrka, the Jäts Gamla Kyrka and the Hemmesjö Gamla Kyrka were saved from demolition.
After the end of the era Tegnér the Granhults Kyrka was re-consecrated in 1879 and since then regularly used again for worship and especially as a very popular wedding and baptismal church.
Granhults Kyrka:

Opening hours
Opening hours
1. June – 31. August
Monday – Sunday: 8:00 – 18:00
---
Last update: 06/2022 | Errors and omissions excepted.
Similar destinations in the area