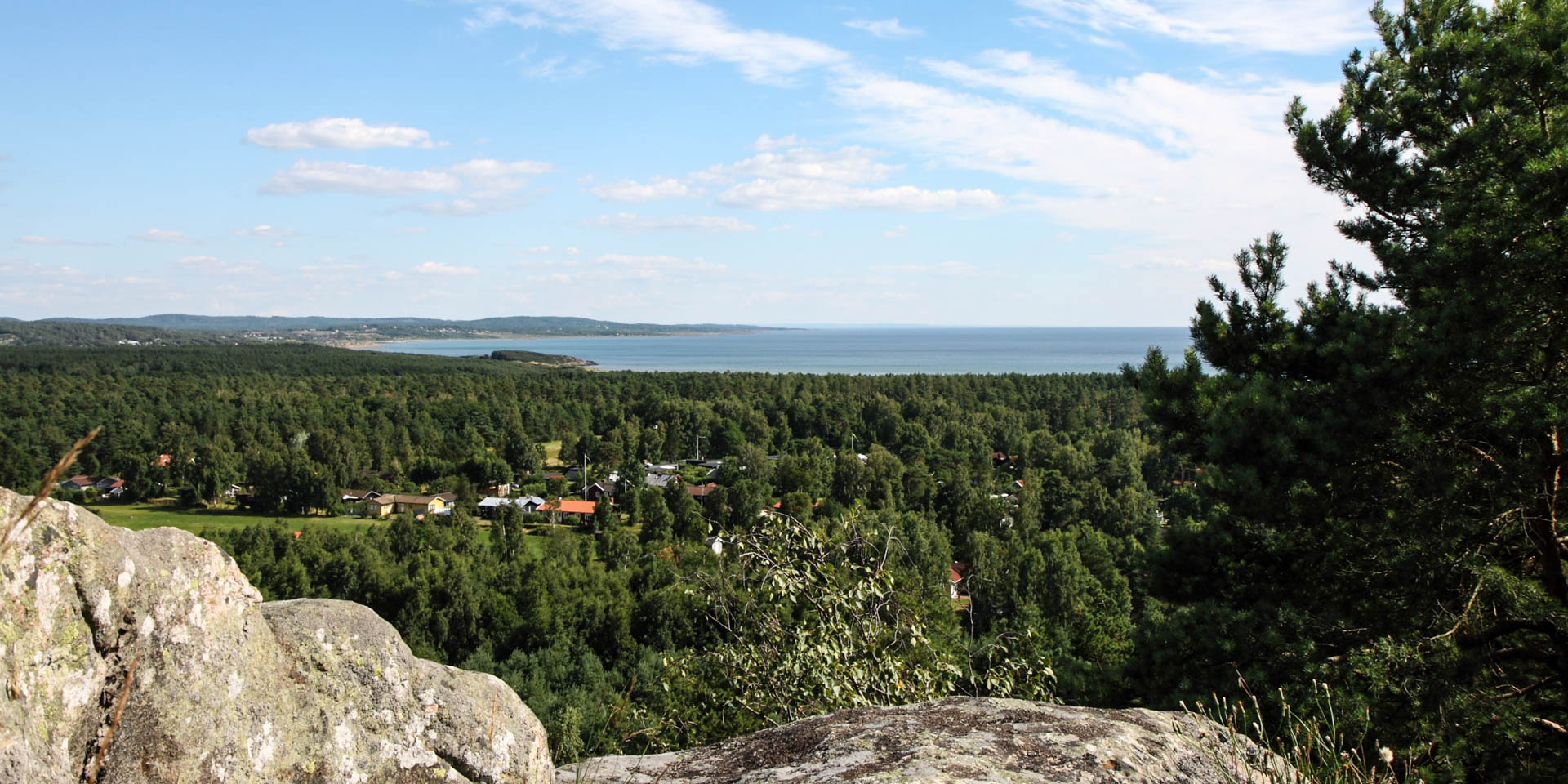 Insider tip
Smörkullens Naturreservat
Nature reserve & viewpoint in Veka
The nature reserve Smörkullens Naturreservat consists mainly of the 52 meter high hill Smörkullen at the edge of the village of Veka, almost 12 kilometers southeast of Falkenberg.
The combination of beautiful nature in connection with the wide view from the top of the mountain makes the 14-hectare nature reserve Smörkullens a popular excursion destination.
While the vegetation at the base of the hill up to shortly below the summit consists of dense mixed forest with different conifers and deciduous trees, on the summit the bare rock appears in many places through sparse grasslands. On the eastern slope of the hill, the trunks of the trees are covered with wild honeysuckle plants (Caprifoliaceae) with their liana-like shoots.
The viewpoint on Smörkullen
From the top of Smörkullen you have a beautiful view over the sea in south-western direction and the coast only one kilometer away and in northern direction you can see Falkenberg. To climb the mountain, three paths of different lengths lead from the parking lot up to the summit. Two of them lead around the hill with a slow gradient, while the path leading straight on from the parking lot leads to the summit on the shortest path, but is relatively steep and ends with steps.
In former times the Smörkullen belonged to a chain of so-called beacon hills along the coast. These were signal fires which were lit from hill to hill and warned the population against hostile attacks. In pagan times, the hill also served as a sacrificial site, which can be easily recognised by the semicircular depressions carved into the rocks, the so-called Skålgropar. For a long time it was believed that fat was sacrificed, which is why the hill was named Smörkulle (butter mountain).
Archaeological research in the 19th century found not only a golden bowl and a sword from the Bronze Age but also large quantities of flint stones at the base of the hill, which are regarded as evidence of the existence of a Stone Age settlement.
Similar destinations in the area